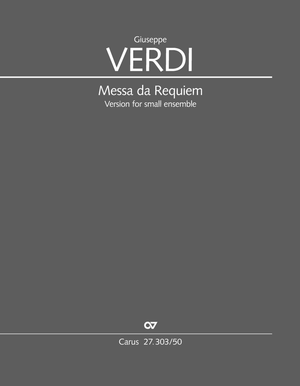 Giuseppe Verdi
Messa da Requiem
Version for small ensemble
The choir director and music pedagogue Michael Betzner-Brandt from Berlin is particularly renowned in the choir scene for his creativity. In order to perform Verdi's Requiem with his chamber choir, he arranged the work as a "chamber oratorio". The piano reduction, which forms the foundation, is expanded by parts for horn, double bass, marimba and percussion. The expressive orchestral timbres of the original are not lost, but transformed into more delicate shades. The Requiem is enhanced especially in its many chamber music passages.
Enables smaller choirs to perform this attractive work, without cooperation with other ensembles and orchestras.
Performances can be realized on a smaller budget.
Offers challenging and rewarding soloistic parts for instrumentalists.
The "chamber oratorio" version offers a fresh view on the well-known work.
The piano reduction and choir score are identical to the original version.
Arranger

Michael Betzner-Brandt Personal details
Composer

Giuseppe Verdi Personal details
Reviews

…da hat sich das Sparen gelohnt: Nur noch fünf Musiker sind am Werk und können zusammen alles von ganz laut bis ganz leise bieten. Verdi kannte das Marimbaphon natürlich noch nicht. Der Klang hätte ihm gewiss zugesagt: flirrend-flächig mit vier weichen oder virtuos-punktuell mit zwei oder mehr harten Schlägeln, zudem fünf Oktaven Umfang. ... Die Verwendung der Marimba in der Bearbeitung ist wohl eher Geniestreich als fauler Zauber … es kann, wie das Klavier, viele Aufgaben übernehmen und färbt den Klang ungewöhnlich und unaufdringlich ein.
Carsten Borokowski, Musik & Kirche, www.musikundkirche.de, Januar/Februar 2014, Nr. 1

Interessant die Klangvorstellung [...]. Praktikabel und interessant ist die Ausgabe gewiss [...].
Gustav Danzinger, Chor aktuell, Juni 2013

Dabei orientiert sich Betzner-Brandt durchaus an den ursprünglichen Klangwirkungen [...] und schafft im "Dies irae" ähnlich packende Momente wie Verdi. Innovativ sind "Quid sum miser" und "Lacrimosa": Hier übernimmt der Chor effektvoll summend die Partie der Streicher, mutig wirkt dagegen die Übertragung der Ferntrompeten im "Tuba mirum" auf Marimba.
Durch die reduzierte Besetzung treten die meisterhaft gesetzten Partien von Chor und Solisten in den Vordergrund, gerade in den leiseren Momenten durchaus eine Bereicherung.
Ulrich Barthel, Neue Chorzeit, März 2013