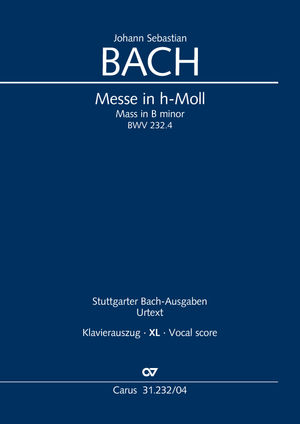 Johann Sebastian Bach
B minor Mass
BWV 232
New Urtext Edition · Hybrid Edition
Although Bach's Mass in B minor is one of the most frequently performed works by the Cantor of St. Thomas's, it is full of puzzles and problems. This applies not only to the question, still unanswered to this day, of why Bach composed this work, but also to many details of the musical text. That is sufficient reason to present the Mass in B minor for the first time in a "hybrid" version which - linked bar by bar - also presents all the relevant sources to highly revealing effect in a DVD. Further features are still in preparation. As editor the services have been obtained of the highly experienced, renowned Bach and Mozart specialist Ulrich Leisinger.
The new edition
offers clear musical text of the invariable Carus quality
is not based only on the autograph and the "Dresden parts", but also on early copies, in order to eliminate from the musical text alterations made after 1750
includes the latest research findings with editing involving all the sources, the new Urtext edition and the critical report, together with an accompanying DVD
makes editorial decisions clearly evident, and is understandable in a way previously unknown
with the DVD it provides access to a fascinating event of musical history
facilitates rehearsal work by means of carefully prepared material (with music examples).
Also available in
carus music
, the choir app.