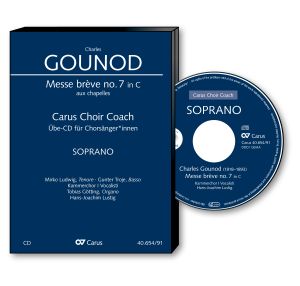 Charles Gounod
Messe brève no. 7 aux chapelles
CG 72b, 1890
The title Messe brève no. 7 is absolutely right for this composition. No movement lasts longer than five minutes, and as well as that, Gounod does not set the Credo. That movement is to be sung congregationally. And this makes the Mass extremely suitable for any festive church service. It is equally popular and suitable repertoire for smaller choirs because of its cantabile character and moderate difficulty level. Gounod's characteristic of his declamatory style of matching motifs closely to the rhythm of the words, and of following the natural speech rhythms through recitation on one note is evident straight away in the Kyrie and, once you have heard it, it is really easy to remember.



The Carus Choir Coach offers choir singers the unique opportunity to study and learn their own, individual choral parts within the context of the sound of the entire choir and orchestra. For every vocal range a separate CD containing each choir part is available. The CD is based on recorded interpretations by renowned artists who have performed the work from carefully prepared Carus Urtext editions. Each choir part is presented in three different versions:
Original recording
Coach: each part is accompanied by the piano, with the original recording sounding in the background
Coach in slow mode: the tempo of the coach slows down to 70% of the original version – through this reduction passages can be learned more effectively.