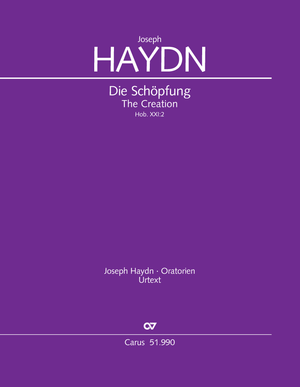 Joseph Haydn
The Creation
Oratorium
Hob. XXI:2, 1798
The primary source on which the Carus Urtext edition is based is the first edition of the score from 1800. Contrary to normal custom, Haydn published the score himself in order to avoid unauthorized publications and to present an optimally designed edition from an "authentic hand." With this original document, which has been compared with additional relevant sources, Carus offers a musical text based on the latest musicological findings.
The critical report provides all of the important data concerning the edition in a compact form suitable for practical use [practical performance]. A detailed foreword offers insight into the genesis of the work, its construction and reception and illuminates compositional and theological and spiritual-historical aspects.
In addition to the score, with singing texts in two languages (G. van Swieten's original German and English text), in the interest of legibility, vocal and choral scores will be offered in two separate editions (German or English).
This work is now available in carus music, the choir app.