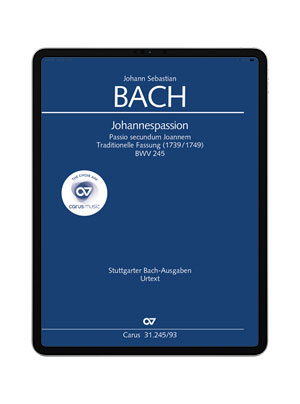 Johann Sebastian Bach
St. John Passion
Traditional version (1739/1749)
BWV 245, 1739/1749
Bach's St. John Passion is one of the most magnificent passion settings in the history of music. Four respectively diverging performances by Bach himself are documented. Bach began copying yet another differing fair copy, but it was completed by a copyist. This fair copy is the basis of today's most frequently performed version.The passion narrative is framed by the powerful choral settings "Herr, unser Herrscher" and "Ruhet wohl," but the short turba choruses also make great demands on the choir; here it is necessary to be prepared with the greatest concentration and alertness.
Experience choral music. Anytime. Anywhere.

At home and out and about: Straight away your choral works will always be with you to practice! With carus music, the new choir app, you can follow the music whilst listening to a top-class recording on your smartphone or tablet, and easily practice your own choral part with the help of a coach. With carus music, your concert preparation will be easy and efficient to master – and fun!
Performer: Barbara Schlick (soprano), Catherine Patriasz (alto), Howard Crook, William Kendall (tenore), Peter Lika, Peter Kooy (basso) – Collegium Vocale Gent, Orchestre de la Chapelle Royale – Philippe Herreweghe