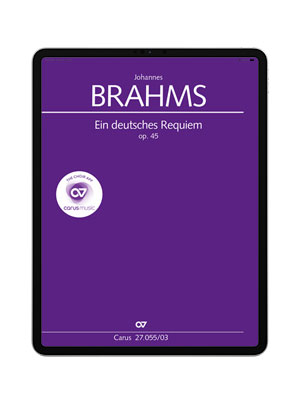 Johannes Brahms
German Requiem
to words from the Holy Scriptures
op. 45
Brahms' Deutsches Requiem is indisputably one of the key works in the history of oratorio. The choir, as the voice of the people, carries the musical action almost continuously. In his Requiem Brahms masterfully combines compositional techniques drawn from earlier centuries with what were then new harmonies, a combination which still presents challenges for choral singers today. So that the work achieves the monumental impression of sound and the desired depth of expression the composer intended, the parts need to be secure – no easy matter with many changes of key, excursions into distant harmonies, and all sorts of pitfalls regarding intonation.
Experience choral music. Anytime. Anywhere.
At home and out and about: Straight away your choral works will always be with you to practice! With carus music, the new choir app, you can follow the music whilst listening to a top-class recording on your smartphone or tablet, and easily practice your own choral part with the help of a coach. With carus music, your concert preparation will be easy and efficient to master – and fun! 
Performers: Julia Borchert (soprano), Michael Volle (basso) – Kammerchor Stuttgart, Klassische Philharmonie Stuttgart – Frieder Bernius