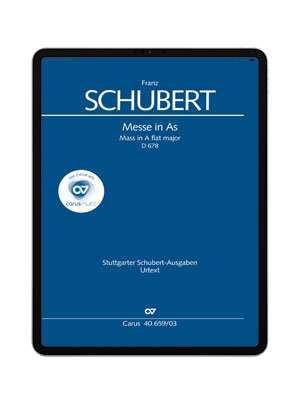 Franz Schubert
Mass in A flat major
D 678
Schubert did not have it easy with the Mass in A flat major, a work which he revisited again and again over a long period. He responded to the obvious challenge of combining artistic aspirations with liturgical functionality by employing a concise interweaving of the choir and vocal soloists, and avoiding the usual formulae found in mass settings. Although in Schubert's own revision many artistic details and tonal differentiations were sacrificed, the mass still presents a musical challenge for all performers, both singers and instrumentalists.


Experience choral music. Anytime. Anywhere.  
At home and out and about: Straight away your choral works will always be with you to practice! With carus music, the new choir app, you can follow the music while listening to a top-class recording on your smartphone or tablet, and easily practice your own choral part with the help of a coach. With carus music, your concert preparation will be easy and efficient to master – and fun!


Performers: Andrea Lauren Brown (Soprano), Ruth Sandhoff (Alto), Andreas Karasiak (Tenore), Tobias Berndt (Basso) – Stuttgarter Kantorei, Stiftsphilharmonie Stuttgart – Kay Johannsen