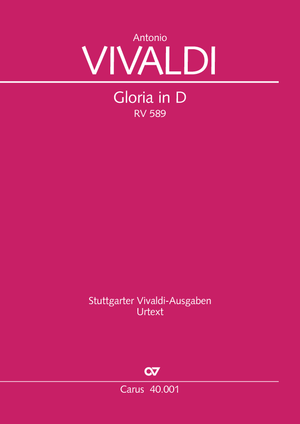 Antonio Vivaldi
Gloria in D major
RV 589, 1713/1717
The revised new edition (full score) is available under the catalog number Carus 40.001/50. The choral part of the previous edition (Carus 40.001/05) largely corresponds with the musical text of the new edition (Carus 40.001/55) and is thus compatible with the material of the revised new edition. 

The Gloria in D Major RV 589 is Vivaldi's most famous sacred work and it is among his most important church music compositions. An independent work in one movement, it was probably composed between 1713 and 1717 for the Ospedale della Pietà, one of the orphanages of Venice in which young girls received a thorough musical training. The musically representative work is divided into 12 sections which differ in scoring, movement type, key and expressed emotions.
This work is available in carus music, the choir app!
Editor

Günter Graulich Personal details
Continuo realisation by

Paul Horn Personal details
Piano reduction by

Paul Horn Personal details
Composer

Antonio Vivaldi Personal details
Reviews

Das Gloria RV 589 war die Gründungs-Ausgabe des Carus Verlages. Diese Partitur erschien ein Jahr später als die von Malipiero bei Ricordi. Man kann von dieser Publikation als von einer Antwort im Sinne der historischen Aufführungspraxis auf Ricordi sprechen, denn diese Carus-Partitur ist von den in Klammern gesetzten Zeichen und den interpretatorischen Vorschlägen, die für die 70er Jahre typisch waren und die Malipiero Ausgabe plagen, befreit. Das große Format und das Layout auf 64 Seiten sind aus praktischen Gründen sehr zu empfehlen. Dies ist die schönste Ausgabe des Gloria, die ich kenne.
Toccata 7/03