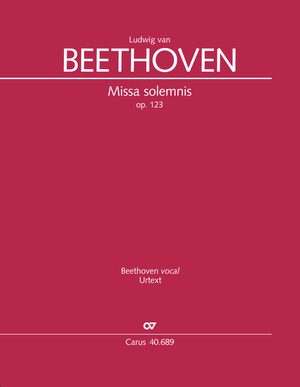 Ludwig van Beethoven
Missa solemnis
op. 123, 1817/23
Beethoven described his Missa solemnis as his greatest work several times, a work which, coming "from the heart," was to touch and move audiences. The surviving sources enable us to recognize how intensively and how long he worked on the composition in order to give what he felt was adequate expression to the text. In its length and musical demands, the Missa solemnis goes far beyond typical liturgical settings, and the premiere took place, for good reason, in a concert hall. The chorus plays a key structural role in the work, and in the process has to master some extremely demanding sections.

The leading Beethoven expert Ernst Herttrich has produced an Urtext edition based on the available sources, and reflecting the latest state of scholarship.

Also available in carus music, the choir app.
Editor

Ernst Herttrich Personal details
Ludwig van Beethoven Personal details
Composer

Ludwig van Beethoven Personal details
Reviews

... eine Ausgabe auf dem allerneuesten wissenschaftlichen Stand in gewohnt solider Carus-Qualität.
Toccata, 56/2011

 

... in bester graphischer Ausstattung, vor allem aber mit ausführlichen, den letzten Stand der Wissenschaft abbildenden Vorworten. Sie erinnern nicht nur an die Entstehungsgeschichte der einzelnen Werke, so bieten auch wertvolle Hinweise für eine Aufführungspraxis. Genau darin besteht auch die primäre Aufgabe dieser Urtext-Editionen: Nicht in der wissenschaftlichen Auseinandersetzung als Selbstzweck, sondern als Hilfe für die heutigen Interpreten, die Werke aus ihrer spezifischen Geschichte und eingebettet in die persönliche Biographie des Komponisten so zu verstehen, um in der praktischen Aufführung möglichst nahe dem Ideal des Komponisten heranzukommen. Damit sind diese Urtext-Ausgaben zu wichtigen Wegweisern in der Rezeption geworden, haben damit Stilgeschichte mitgeschrieben - und tun dies auch weiterhin.
CHOR aktuell, 2/2011

 

Das Vorwort zur Partitur schilder in faszinierender Weise die Entstehungsgeschichte des Werks, auch in englischerund französischer Übersetzung. [...]
Man merkt auf jeder Seite, dass Verlag und Herausgeber gemeinsam ein hohes Qualitätsethos vertreten.
Württembergische Blätter für Kirchenmusik, 3/2012

 

Der Carus-Verlag bietet mit einer Neuauflage der Partitur dieses Werkes, in der Aufmachung exzellent das entsprechende Notenmaterial an die Hand. Besonders bestechend sind die umfangreichen Hintergrundinformationen, die dem Vorwort zu entnehmen sind. Wer wirklich einmal in die komfortable Situation kommen sollte, dieses Monumentalwerk aufführen zu dürfen, wird mit der Carus-Ausgabe hervorragend bedient werden.
Kirchenmusik im Bistum Aachen, Mai 2011

 

Cette édition reprend les toutes dernières connaissances du point de vue musicologique, mais, en laissant de côté des détails inutiles du point de vue de la partition, s'oriente définitivement vers les besoins de la pratique musicale.
Crescendo, 6/2011

 

... föreligger nu här i en nyutgåva från tyska ambitiösa och kvalitetsmedvetna Carusförlaget
Kyrkomusikernas Tidning, nr 8 2011