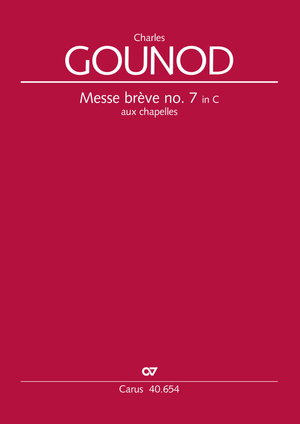 Charles Gounod
Messe brève no. 7 aux chapelles
CG 72b, 1890
Gounods Messe brève No. 7 was originally published in 1877 in a version for two equal voices with organ, then in 1890 it reappeared with the words Aux chapelles added to the title, arranged for soli, four-part mixed choir and organ. Gounod does not set the Credo, that movement is to be sung congregationally. Gounod's characteristic of his declamatory style of matching motifs closely to the rhythm of the words, and of following the natural speech rhythms through recitation on one note is evident straight away in the Kyrie.
The full score contains at the same time the organ part.

Also available in carus music, the choir app.