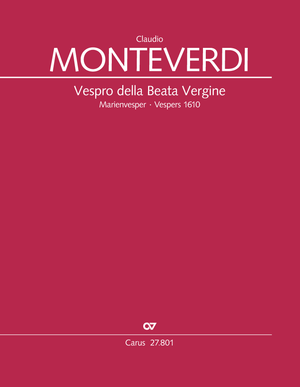 Claudio Monteverdi
Vespro della Beata Vergine
Vespers 1610
SV 206
Critical edition
- based on all surviving copies of the print from 1610- early handwritten additions in these copies were taken into consideration for the edition, however these were not adopted without written indication- variant readings between the parts and the basso continuo score are rendered on ossia staves
- the original note values and pitch levels have been retained
- detailed foreword with an explanation of the work, the history of its transmission, and a history of the various editions and liturgical performance practice
Flexible use of performance material
- choirs may use either the vocal score or the economical choral score- colla-parte instrumental parts are available for each of thepsalms and for the hymn
- each of the colla-parte parts includes the complete corresponding vocal part with singing text, and the beginning of each verse is also indicated
- the use of the parts is fl exible and allows for diverse scoring variants; for example, in pieces for double choir each of the winds and string parts contains both choir parts
- alternative scoring possibilities are suggested in the foreword
- the performance material included in the edition enables Monteverdi's Vespers to be performed using the maximum scoring, but the work may also be performed with a smaller ensemble
The editor Uwe Wolf
- is a specialist for notational practice of the early 17th century.
- has published a number of articles and studies on the Vespers and has held seminars on the work at various universities.
- brings his practical experience to the edition as a cornettist(Zink player) through numerous performances of the Vespers both in Germany and abroad.
- has a broad editorial experience.
You can read the entire foreword of the new edition here.
This work is now available in carus music, the choir app!

Editor

Uwe Wolf Personal details
Composer

Claudio Monteverdi Personal details
Reviews

2780100

Eine wissenschaftlich mustergültig gearbeitete Ausgabe, die beweist, dass sich Wissenschaft und Praxis letztlich nur gegenseitig bereichern können.

Die Besprechung 12/2015

Nicht nur erscheinen alle Entscheidungen des Herausgebers plausibel und ausführlich begründet, sondern mit der Offenlegung von Gedankengängen und der Demonstration vielfältigen Materials – darunter etliche kenntnisreich kommentierte Faksimiles – leitet Wolf Leser und Musiker so behutsam wie intelligent zu jenen Problemen, die sich bei der Realisierung einer Komposition des 17. Jahrhunderts allenthalben stellen. ... In dieser Diskretion, die entschiedenes wissenschaftliches Urteil mit künstlerischer Liberalität verbindet, gerät Wolfs exzellente Ausgabe der Marienvesper zum Paradigma moderner Editionstechnik.
Michael Heinemann, Edition in der Kritik, Bd. 7 2015

 

... That said, this beautifully presented score is astoundingly good value, containing as it does not only an excellent new edition of the piece by Uwe Wolf but also seven facsimile pages of the earliest printed edition, full texts and translations, and a Foreword whose erudition is matched only by the enthusiasm of its author.
Jeremy Summerly, Choir & Organ, September/Oktober 2014

 

...das Aufführungsmaterial bietet für jeweils zwei Varianten die praktikablen Grundlagen (sodass man ggf. etwas streichen kann, aber nichts ergänzen muss).

Gottesdienst und Kirchenmusik 05/06.2015

 

 

Die Stimmen sind so ausgearbeitet, dass sie sowohl bei einer Aufführung mit kleiner Besetzung wie mit großem Chor gute Dienste leisten...

Schweizer Musikzeitung 05.2015

 

 

... die Ausgabe des Carus-Verlages ist sehr praxisorientiert, die Partitur ist vom Notenbild und von der Gliederung her sehr angenehm zu lesen. Vorbildlich ist der kritische Bericht mit exakten Quellenangaben zu jedem Abschnitt und mit verschiedenen Besetzungsvorschlägen für die Vokal- und Instrumentalstimmen. Ausführliche Hinweise zur Aufführungspraxis ergänzen die Publikation.
Gustav Danzinger, CHOR aktuell, 3/2014

 

... Uwe Wolf, Cheflektor des Carus-Verlags hat mit Monteverdis "Vespro della Beata Vergine" eine beeindruckende Neuedition vorgelegt... Übersetzungen, Faksimileseiten, Besetzungsvorschläge sowie ein detaillierter kritischer Bericht runden diese feine Edition ab, zu der sämtliche Stimmen erhältlich sind.
Singende Kirche, 2/2014

 

Uwe Wolf, Herausgeber der Neuausgabe bei Carus, hat den Druck von 1610 als Grundlage genommen, ergänzt um weitere Exemplare der Entstehungszeit. ... [Die Ausgabe] bietet ein ausführliches und instruktives Vorwort.
Kirchenmusik im Bistum Limburg, 1/2014