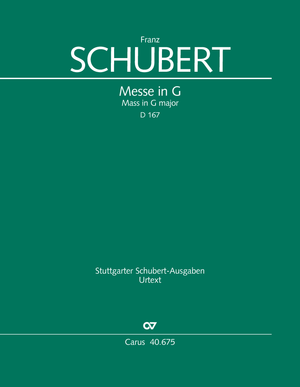 Franz Schubert
Mass in G major
Erstausgabe nach den Klosterneuburger Stimmen
D 167
Franz Schubert's Mass in G major is one of the most popular settings of the mass ordinary: the charming song-like melodic writing, especially in the Kyrie and the Credo, forms a magical counterpoint to more concertante passages in the Gloria and the Sanctus. For a long time it was thought that Schubert's final version was scored for purely string orchestra, whilst a version with wind, brass, and timpani was thought to be an expanded orchestration by his brother Ferdinand Schubert. However, since the mid-1990s it has been known that the parts for trumpets and timpani were additionally composed by Franz Schubert himself for use "ad libitum". The present edition offers this "Klosterneuburg Version"" – with trumpets and timpani ad libitum, but without Ferdinand's wind parts – in an Urtext edition reflecting Schubert's own intended orchestration.


This work is available in carus music, the choir app!
Editor

Bernhard Paul Personal details
Composer

Franz Schubert Personal details
Reviews

Franz Schubert Missa in G D 167

Im Chorherrenstift Klosterneuburg hat der Herausgeber der bekannten G-Dur Messe, Bernhard Paul, die von Franz Schuberts Hand stammenden Stimmen für zusätzliche Trompeten und Pauken gefunden. So hat man nun das Original vor sich, in einer Ausgabe, aus der es sich wegen des schönen und übersichtlichen Druckbildes vortrefflich musizieren lässt. Die verkleinerte Partitur im Taschenbuchformat ist bei Carus […] erhältlich.

Roland Büchner
Quelle: Musica Sacra 4/1997, S. 418

 

Schubert, Franz (1797-1828): Missa in G

Wer hätte das für möglich gehalten? Die bekannte, als reine "Streicher-Messe" geltende kleine Ordinariumsvertonung in G-Dur von Schubert ist wegen der im Chorherrenstift Klosterneuburg gefundenen autographen Trompeten- und Paukenstimmen neu zu entdecken. Die bisher erschienenen Editionen orientieren sich nur an der autographen Partitur, in der die Trompeten- und Paukenstimmen die Handschrift des Bruders Ferdinand zeigen und demzufolge in den bis dato erschienenen Editionen weggelassen wurden. Dieser hatte jedoch nur Franz Schuberts eigenhändig geschriebene, aber jetzt erst wiederentdeckte Stimmen in die Partitur übertragen.
Neben diesem Stimmenzuwachs sind auch gewichtige Änderungen hinsichtlich des Tempos, der Phrasierung, der Dynamik und der Melodie zu beobachten, die in den autographen Stimmen zu finden sind, aber offenbar aus Zeitmangel von Schubert nicht in die Partitur übertragen wurden. Alle diese - von Franz Schubert selbst autorisierten - Eingriffe in die Kleine G-Dur- beinhalten zwangsläufig eine Korrektur des bisherigen Bildes dieser Komposition. Zum ersten mal liegt auch eine vollständige autographe Bezifferung des Generalbasses vor. Vorbildliche Ausgabe mit umfangreichem Vorwort und kritischem Bericht.

Bernhard Schüth
Quelle: Musik im Bistum Essen I/1996, S. 55f.