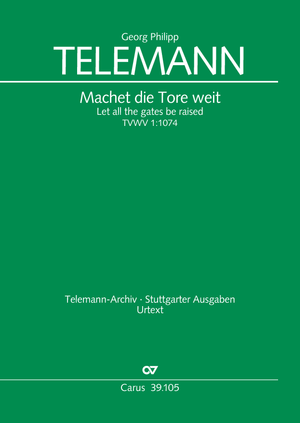 Georg Philipp Telemann
Let all the gates be raised
Kantate zum 1. Advent
TVWV 1:1074
The Advent cantata Machet die Tore weit has long been one of the most frequently performed of Telemann's
sacred works. Among the copies of this cantata which have been handed down is a copy by J. S. Bach which
bears testimony to the high respect he paid to his then more celebrated colleague from Hamburg: It is a copy of the score in the hand of the Thomaskantor which was made for a performance in Leipzig on Avent Sunday in 1734 (therefore during the same period as the first performance of Bach's Christmas Oratorio). Of the four
solo singers the soprano and bass, each of whom has an aria, are indispensable. The brief alto solos in the opening chorus can be sung by a member of the choir, and the tenor recitative can be sung by the soprano soloist.


This work is now available in carus music, the choir app!