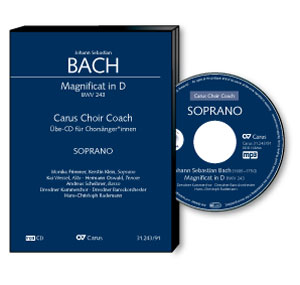 Johann Sebastian Bach
Magnificat in D
BWV 243
Bach composed particularly demanding and difficult works in his first year in Leipzig in 1723. These include the
Magnificat
, first written in E flat major and reworked about eight years later into the present D major version. This work requires an experienced chorus, as the parts are almost instrumentally conceived and rich in coloratura writing. The extremely agile vocal parts, with many large interval leaps, need to be thoroughly understood, and the position of each line within the dense web of other parts securely grasped. Examples of such tricky passages include the rapidly following entries at "Omnes generationes", and the long coloratura sixteenth note passages at "Fecit potentiam".
The Carus Choir Coach offers choir singers the unique opportunity to study and learn their own, individual choral parts within the context of the sound of the entire choir and orchestra. For every vocal range a separate CD containing each choir part is available. The CD is based on recorded interpretations by renowned artists who have performed the work from carefully prepared Carus Urtext editions. Each choir part is presented in three different versions:
Original recording
Coach: each voice part strongly emphasized, with the original recording sounding in the background
Coach in slow mode: the tempo of the coach slows down to 70% of the original version – through this reduction passages can be learned more effectively.