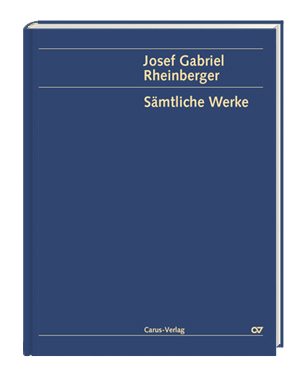 Josef Gabriel Rheinberger
Requiem in B flat minor
op. 60, 1867
After the premiere of 12 Dec 1870, the poet Paul Heyse wrote to Rheinberger: "I do not want to wait until we see each other again, most honoured friend, to say to you how much your work grabbed hold of me, lifted me up, and washed me away on a current of strength and beauty, swelling higher and higher."
Editor

Wolfgang Hochstein Personal details
Composer

Josef Gabriel Rheinberger Personal details
Reviews

J. G. Rheinberger, Requiem

Das Requiem op. 60 ist Rheinbergers erste groß angelegte Arbeit eines geistlichen Werkes und wird als Beginn seines "eigentlichen kirchenmusikalischen Schaffens" betrachtet. Nach einigen Umarbeitungen hat Rheinberger sein "Requiem" im Dezember 1870 mit dem Münchener Oratorienverein uraufgeführt. Der Chor hat in dieser Komposition die gewichtigste Rolle, die Solisten bleiben etwas im Hintergrund, es ergeben sich aber durch überwiegende Ensembleaufgaben der Solisten reizvolle Gegenüberstellungen von Chor und Solisten, nach Art der Doppelchörigkeit. Das Orchester ist groß besetzt, mit jeweils zwei Flöten, Oboen, Klarinetten und Fagotten, drei Hörnern, drei Posaunen und Tuba, Pauken sowie den Streichern. Rheinbergers liedhafte Melodiebildung und seine aparte Instrumentation ist auch in diesem Werk zu bewundern, doch ebenso werden dramatische und pathetische Höhepunkte mit der Aufbietung aller Mittel gesetzt. Für Konzert- und Oratorienaufführungen eine lohnende Aufgabe. Die Ausgabe des Carus-Verlages ist vorbildlich; auch an dem ausführlichen, dreisprachigen, und für die Entstehungsgeschichte des Werkes hochinteressanten Vorwortes des Herausgebers Wolfgang Hochstein, wurden weder Kosten noch Mühen gescheut.

Quelle: Musica Sacra 6/1992, S. 525f.