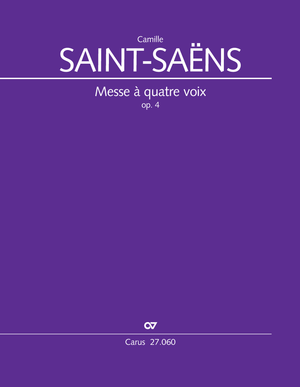 Camille Saint-Saëns
Messe à quatre voix
op. 4, 1856
Carus-Verlag is now publishing this early work by Camille Saint-Saëns in a critical new edition. Among the sacred works by Saint-Saëns there are just two settings of the mass: the "Messe de Requiem" op. 54 from his middle period (1878), and the Mass op. 4 dating from 1856. This was first performed on 21 April 1857.
Camille Saint-Saëns was a devoted follower of historicism as part of the reform movement in French church music. This is more evident in the mass published here than anywhere else. The model for this work is the unison "Messe Royale" by Henry DuMont (1610–1683). Saint-Saëns combined its Gregorian style in a convincing manner with contemporary elements of Romantic composition, an expressive chromaticism, which determines the harmonic progression.
Alongside the orchestral forces, the Grand Orgue plays an important role. Used as a solo instrument, it is an equal partner in the composition.
The organ part included the performance material of the present edition consists of the Organo I (grand orgue) and Organo II (ripieno) parts, so that in cases where a second instrument is unavailable, the parts can also be performed by a single organ.
Version for organ (Carus 27.060/45) in preparation