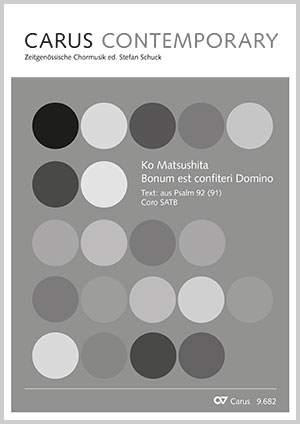 Ko Matsushita
Bonum est confiteri Domino
Psalm 92 praises the works of God lyrically and joyfully. As early as pre-Christian times it belonged to the liturgy of Sabbath worship.
Japanese composer Matsushita has set this beautiful psalm in motet style and was strongly inspired by the Catholic liturgical Gregorian melody of the antiphon of the same name and a well-known Halleluja on the 8th tone. His hymn of praise therefore begins almost modestly and humbly. Characteristic of this is Matsushita's omission of the martial-sounding verses of the psalm. Only in the concluding Halleluja does the composition intensify through a dance-like rhythmic figure to fortissimo, to then return to the introverted opening mood.  

Matsushita's setting treats the text in a humble and sensitive way and is mainly homophonic to match its mood. He writes the vocal lines in ranges which are grateful and rewarding to sing. The vocal lines split in all four parts, and there are short solos in tenor and soprano. This tonal work is also well within the capabilities of choirs less experienced in contemporary music, and a great addition for liturgical and concert use.