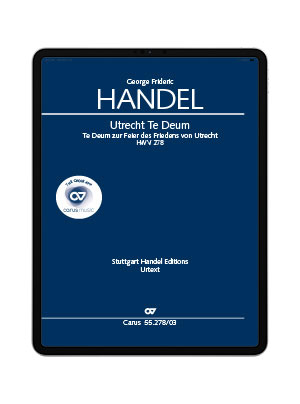 Georg Friedrich Händel
Utrecht Te Deum
HWV 278
Handel's Utrecht Te Deum HWV 278 enthralled London audiences right from its first performance, and it continues to do so today in concert halls and churches all over the world. It was performed for the first time to celebrate the Peace marking the end of the twelve year-long War of the Spanish Succession in 1713. The Te Deum was the first commission by the English royal house and was an important milestone at the beginning of his London career. The composition brought him an annual pension from Queen Anne and helped him to establish himself as a composer of prestigious music for the English royal family.
Some movements are scored for soloists and choir alternately, so close attention needs to be paid to the entries. The doxology at the end is scored for double choir, unusually with SST as choir I and AATB as choir II.
Here you need to be secure in your own part in order not to be distracted by the "wrong" one!
Experience choral music. Anytime. Anywhere.

At home and out and about: Straight away your choral works will always be with you to practice! With carus music, the new choir app, you can follow the music whilst listening to a top-class recording on your smartphone or tablet, and easily practice your own choral part with the help of a coach. With carus music, your concert preparation will be easy and efficient to master – and fun!
Performers: Christina Landshamer (soprano), Anja Scherg (soprano), Reginald Mobley (alto), Benedikt Kristjánsson (tenore), Andreas Wolf (basso) – Gaechinger Cantorey – Hans-Christoph Rademann