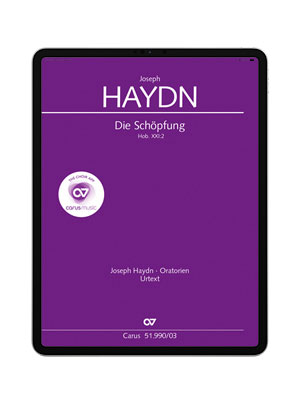 Joseph Haydn
The Creation
Oratorium
Hob. XXI:2, 1798
Haydn's magnificent Creation marks something akin to the "birth" of the great German oratorio, in view of the fact that this work – which is popular all over the world –stands as a landmark between the great oratorios of Händel and Mendelssohn. The composition of the Creation was particularly associated with the music of Händel since Haydn, on his two trips to England in the first half of the 1790s, had been profoundly impressed by monumental performances in Westminster Abbey. The choral parts are not particularly difficult; however, in order to most effectively attain the effortlessness and vivaciousness of Haydn's music, each part should be perfectly rehearsed.


Experience choral music. Anytime. Anywhere.

At home and out and about: Straight away your choral works will always be with you to practice! With carus music, the new choir app, you can follow the music whilst listening to a top-class recording on your smartphone or tablet, and easily practice your own choral part with the help of a coach. With carus music, your concert preparation will be easy and efficient to master – and fun!


Performers: Julia Kleiter (soprano), Maximilian Schmitt (tenore), Johannes Weisser (basso) – RIAS-Kammerchor, Freiburger Barockorchester – René Jacobs