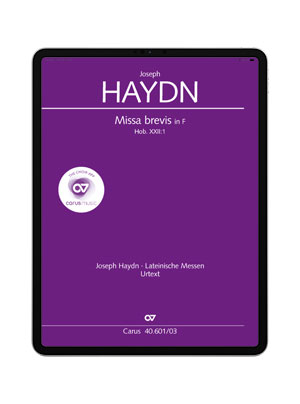 Joseph Haydn
Missa brevis in F major
Hob. XXII:1, 1749-50 (?)
Haydn wrote his first mass as a youth when he and his brother still sang as boy sopranos at St. Stephen's Cathedral in Vienna. Presumably, he wrote the two ornamented solo voices for himself and his brother. With numerous short interjections the choir joins in effectively in the jubilation of the solo sopranos - if it can hear the solo voices this is useful for finding its entry notes with certainty.


Experience choral music. Anytime. Anywhere.
At home and out and about: Straight away your choral works will always be with you to practice! With carus music, the new choir app, you can follow the music whilst listening to a top-class recording on your smartphone or tablet, and easily practice your own choral part with the help of a coach. With carus music, your concert preparation will be easy and efficient to master – and fun!
 
Performers: Ann Hoyt (soprano 1), Julie Liston (soprano 2), Richard Lippold (basso) – Trinity Choir, Rebel Baroque Orchestra – J. Owen Burdick