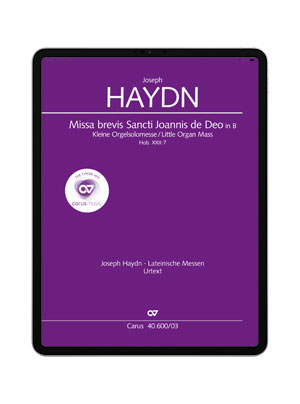 Joseph Haydn
Missa brevis Sancti Joannis de Deo
Little organ mass
Hob. XXII:7, 1778 (?) (terminus ante quem)
In the Gloria and Credo of his Little Organ Mass, Haydn takes the principle of the "Missa brevis" to the extreme: the entire text is distributed simultaneously among the four voices so that the long text in the Gloria is treated in 19 measures. Accordingly, one has to be rhythmically autonomous as a chorister. Rhythmic certainty on the part of each individual is also necessary for the fugal treatment of the voices in the Sanctus, with its unusual 6/8 meter. It is good that one can practice these movements slowly, using the app.

Experience choral music. Anytime. Anywhere.
At home and out and about: Straight away your choral works will always be with you to practice! With carus music, the new choir app, you can follow the music whilst listening to a top-class recording on your smartphone or tablet, and easily practice your own choral part with the help of a coach. With carus music, your concert preparation will be easy and efficient to master – and fun!

Performers: Barbara Hendricks (soprano) – Rundfunkchor Leipzig, Staatskapelle Dresden – Sir Neville Marriner