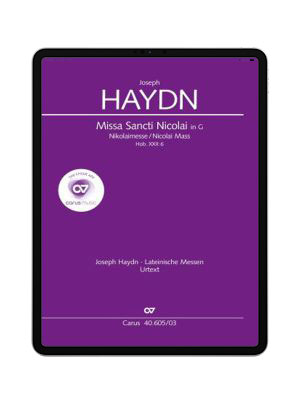 Joseph Haydn
Nikolai Mass
Nicolai-Messe
Hob. XXII:6, 1772
The popular "Nicolai Mass" by Haydn is both diverse and traditional. Haydn conveys this exhilarating jubilance through numerous wide leaps, in particular sixths and octaves, that the chorister has to hear well in order to reach the high notes correctly (the soprano has to sing up to B2). With its syncopated counterpoint, the short, virtuosic Amen fugue in the "Gloria" requires a firm sense of rhythm – good that one can hear this slowly using the app!

Experience choral music. Anytime. Anywhere.
At home and out and about: Straight away your choral works will always be with you to practice! With carus music, the new choir app, you can follow the music whilst listening to a top-class recording on your smartphone or tablet, and easily practice your own choral part with the help of a coach. With carus music, your concert preparation will be easy and efficient to master – and fun!


Performers: Ann Hoyt (soprano), Luthien Brackett (alto), Stephen Sands (tenore), Richard Lippold (basso) – Trinity Choir, Rebel Baroque Orchestra – J. Owen Burdick