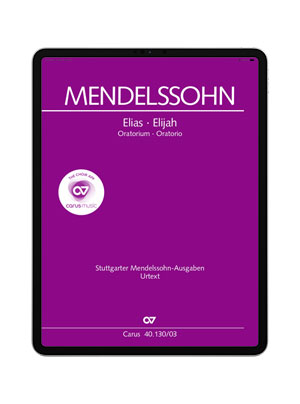 Felix Mendelssohn Bartholdy
Elijah
An Oratorio Based on the old Testament Text
MWV A 25, 1845-1846
Characterized by gripping drama and at the same time by an intimacy of trust in God, something which was no longer a matter of course even in Mendelssohn's lifetime, this oratorio offers a wealth of musical means of expression, ranging from total despair to tremendous joy and whipped-up agitation in the contest about the "true" God. Singers have a range of rewarding challenges in this work.

Experience choral music. Anytime. Anywhere.

At home and out and about: Straight away your choral works will always be with you to practice! With carus music, the new choir app, you can follow the music whilst listening to a top-class recording on your smartphone or tablet, and easily practice your own choral part with the help of a coach. With carus music, your concert preparation will be easy and efficient to master – and fun! 


Elias is sung in German. Performers: Letizia Scherrer, Sarah Wegener (soprano), Renée Morloc (alto), Werner Güra (tenore), Michael Volle (basso) – Kammerchor Stuttgart, Klassische Philharmonie Stuttgart – Frieder Bernius