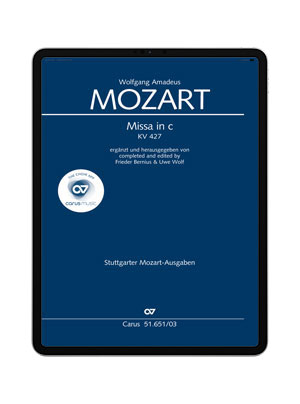 Wolfgang Amadeus Mozart
C Minor Mass / Missa in c
completed and edited by Frieder Bernius & Uwe Wolf
KV 427
The "Missa in c" KV 427 by Wolfgang Amadeus Mozart is a fascinating work. As it was not completed by Mozart, attempts were frequently made from the 19th century onwards to complete it and thus make it performable – with quite differing results. Now Frieder Bernius and Uwe Wolf have published a new edition of the Mozart mass which attempts to produce a performing version whilst maintaining the greatest respect for the available material, without obscuring Mozart's musical manuscript. Whether it's in the double-choir "Qui tollis" or the "Cum Sancto Spiritu" fugue, the choral singers are most certainly challenged, and yet the atmosphere of the work mustn't be lost.  If the blend of accuracy and shaping works, nobody, whether performer nor listener, will be able to resist the fascination of this work.
With Mozart's "Missa in c" K. 427 the coach offers not only the notes, but also the sung part. The coach is based on individual recorded parts sung by the Kammerchor Stuttgart, making practising even more enjoyable!

Experience choral music. Anytime. Anywhere.
At home and out and about: Straight away your choral works will always be with you to practice! With carus music, the new choir app, you can follow the music while listening to a top-class recording on your smartphone or tablet, and easily practice your own choral part with the help of a coach.

Performers: Sarah Wegener (soprano), Sophie Harmsen (mezzosoprano), Colin Balzer (tenore), Felix Rathgeber (basso) – Kammerchor Stuttgart, Hofkapelle Stuttgart – Frieder Bernius