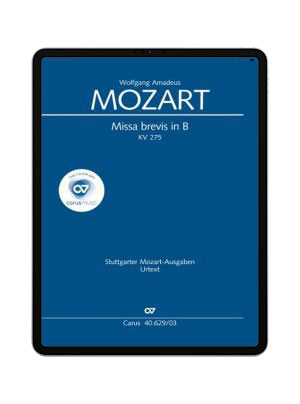 Wolfgang Amadeus Mozart
Missa brevis in B flat major
KV 275 (272b), 1777
The Missa Brevis in B flat major K. 275 is characterized by a prevailing cheerful, buoyant mood, which Alfred Einstein attested to be "a refinemenet of inconspicuous polyphony and, above all, chromatic movement and boldness". The carus music app proves to be very helpful for practicing the dialog-like, meshed solo and tutti passages and for the chromatic, in part tricky movements of the voices the Coach provides orientation.

Experience choral music. Anytime. Anywhere.
At home and out and about: Straight away your choral works will always be with you to practice! With carus music, the new choir app, you can follow the music whilst listening to a top-class recording on your smartphone or tablet, and easily practice your own choral part with the help of a coach. With carus music, your concert preparation will be easy and efficient to master – and fun!
 Performers: Agnès Mellon (soprano), Elisabeth Graf (alto), Oly Pfaff (tenore), Franz-Josef Selig (basso) – Kölner Kammerchor, Collegium Cartusianum – Peter Neumann