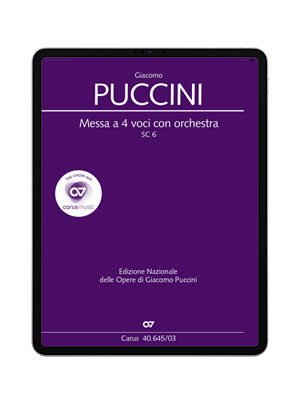 Giacomo Puccini
Messa a 4 voci con orchestra
Messa di Gloria
SC 6
The Messa a 4 voci was composed by the 22-year-old Giacomo Puccini at the end of his schooldays, and revised about 15 years later. Even in this early work, the subtlety of writing found in Puccini's later operas is clear, works in which he re-used some themes from the mass. The Messa a 4 voci sparkles with vitality, and even this youthful, dynamic, but demanding work requires a thorough knowledge of the piece by the choral singers.

Experience choral music. Anytime. Anywhere.

At home and out and about: Straight away your choral works will always be with you to practice! With carus music, the new choir app, you can follow the music whilst listening to a top-class recording on your smartphone or tablet, and easily practice your own choral part with the help of a coach. With carus music, your concert preparation will be easy and efficient to master – and fun! 

Performers: Antonello Palombi (tenore), Gunnar Lundberg (basso) – Hungarian Radio Choir, Hungarian Opera Orchestra – Pier Giorgio Morandi