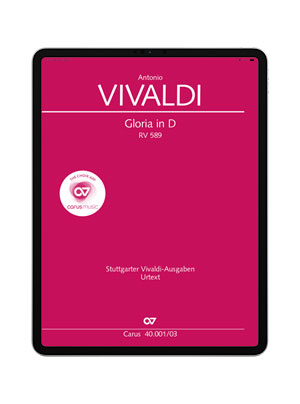 Antonio Vivaldi
Gloria in D
RV 589, 1713/1717
It's one thing above all, a magnificent choral work! Of course there are also solo movements, but the choir has the lion's share of the musical action and has not only a lot to sing, but very varied movements of this most impressive setting of the Gloria. That's why it's always worth being well prepared for rehearsals.
Experience choral music. Anytime. Anywhere.

At home and out and about: Straight away your choral works will always be with you to practice! With carus music, the new choir app, you can follow the music whilst listening to a top-class recording on your smartphone or tablet, and easily practice your own choral part with the help of a coach. With carus music, your concert preparation will be easy and efficient to master – and fun! 

Performers: Vilve Hepner, Kaia Urb (soprano), Anna Zander (alto), Mati Turi (tenore) – Estonian Philharmonic Chamber Choir, Tallinn Chamber Orchestra – Tõnu Kaljuste