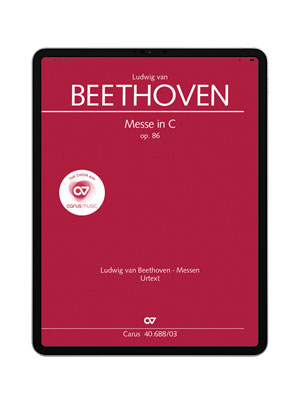 Ludwig van Beethoven
Mass in C major
op. 86
The first of Beethoven's two Mass settings is distinctly modern and innovative in its musical language, which is both subjective and fervent. With its dramatic alternation of vocal and instrumental passages, and great contrasts in tension and expression, the Mass constantly demands the highest concentration and accuracy from the choral singers.

Experience choral music. Anytime. Anywhere.

At home and out and about: Straight away your choral works will always be with you to practice! With carus music, the new choir app, you can follow the music whilst listening to a top-class recording on your smartphone or tablet, and easily practice your own choral part with the help of a coach. With carus music, your concert preparation will be easy and efficient to master – and fun!
Performers: Maria Keohane (soprano), Margot Oitzinger (alto), Thomas Hobbs (tenore), Sebastian Noack (basso) – Kammerchor Stuttgart, Hofkapelle Stuttgart – Frieder Bernius