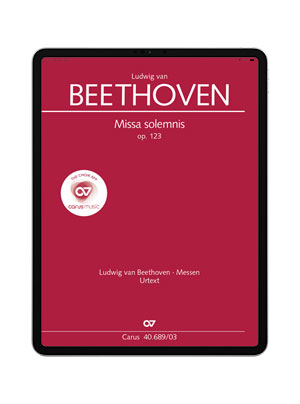 Ludwig van Beethoven
Missa solemnis
op. 123, 1817/23
Beethoven's masterpiece is a major project for any choir, not just because of its length, but also because it contains some of the most difficult passages found in the choral repertoire. In particular the dreaded fugues of Beethoven's late period, and the changes between extreme tempi make one thing clear: you won't get far enough with rehearsals alone, here you really have to practice! With a good performance, however, you experience why Beethoven himself considered the Mass to be his "greatest and most successful work".

Experience choral music. Anytime. Anywhere.

At home and out and about: Straight away your choral works will always be with you to practice! With carus music, the new choir app, you can follow the music whilst listening to a top-class recording on your smartphone or tablet, and easily practice your own choral part with the help of a coach. With carus music, your concert preparation will be easy and efficient to master – and fun!  


Performers: Rosa Mannion (soprano), Birgit Remmert (alto), James Taylor (tenore), Cornelius Hauptmann (basso) – La Chapelle Royale, Collegium Vocale Gent, Orchestre des Champs-Élysées – Philippe Herreweghe