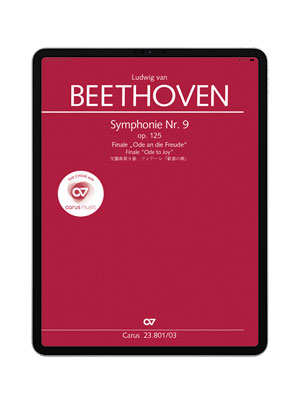 Ludwig van Beethoven
9th Symphony. Finale (Choral Symphony)
Ode to Joy. Vocal score compatible with all available music editions
op. 125,4, 1815-1824
Beethoven's Ninth was hotly debated amongst listeners and music critics at first. But his setting of Schiller's "Ode to Joy" in the final movement is now sung by classical music fans and many others as a matter of course. However, the catchy theme is deceptive, and the choral writing is in fact much more difficult than it looks. Dizzy heights and frequent contrasting tempo changes demand absolutely everything from the choral singer: here, every detail has to work, for this movement is ultimately the crowning conclusion of the 70-minute symphony.

Experience choral music. Anytime. Anywhere.

At home and out and about: Straight away your choral works will always be with you to practice! With carus music, the new choir app, you can follow the music whilst listening to a top-class recording on your smartphone or tablet, and easily practice your own choral part with the help of a coach. With carus music, your concert preparation will be easy and efficient to master – and fun!
Performers: Renate Behle (soprano), Yvonne Naef (mezzo-soprano), Glenn Winslade (tenore), Hanno Müller-Brachmann (basso) – Rundfunkchor Berlin, SWR Sinfonieorchester Baden-Baden und Freiburg – Michael Gielen