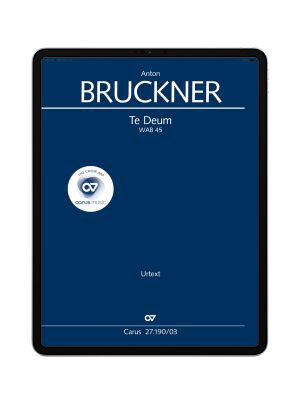 Anton Bruckner
Te Deum
WAB 45
Despite the considerable challenges it presents, Bruckner's Te Deum is one of the most popular and frequently-performed choral-symphonic works in the entire repertoire. But the music, littered as it is with accidentals changes, causes even the most experienced choral singers some stress. Here carus music can help singers to scale the heights of this choral work.

Experience choral music. Anytime. Anywhere.

At home and out and about: Straight away your choral works will always be with you to practice! With carus music, the new choir app, you can follow the music whilst listening to a top-class recording on your smartphone or tablet, and easily practice your own choral part with the help of a coach. With carus music, your concert preparation will be easy and efficient to master – and fun! 
Performers: Uta Spreckelsen (soprano), Heidrun Ankersen (alto), Adalbert Kraus (tenore), Kurt Moll (basso) – Chor des Musikvereins, Bielefeld, Philharmonia Hungarica – Martin Stephani