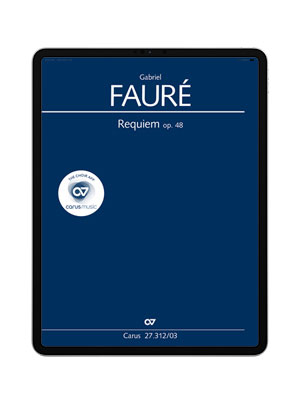 Gabriel Fauré
Requiem. Version for symphony orchestra
op. 48, 1900
Gabriel Fauré's Requiem is the key work among the sacred compositions by the French master. Already during the composer's lifetime, it proved very successful with the audiences, and this success remains undiminished all over the world to this day. In contrast to more "theatrically" conceived settings, it was Fauré's intention to evoke a peaceful and conciliatory mood with his work. Even though the choral parts are very suitable for most choir singers due to their melodic accessibility, many passages are harmonically extremely sophisticated and require careful preparation in rehearsal.
Experience choral music. Anytime. Anywhere.
At home and out and about: Straight away your choral works will always be with you to practice! With carus music, the new choir app, you can follow the music whilst listening to a top-class recording on your smartphone or tablet, and easily practice your own choral part with the help of a coach. With carus music, your concert preparation will be easy and efficient to master – and fun!
Performers: Flemish Radio Choir, Brussels Philharmonic Soloists – Hervé Niquet