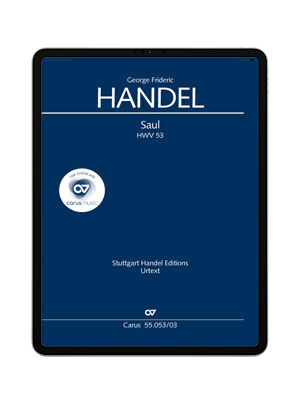 Georg Friedrich Händel
Saul
Oratorio
HWV 53, 1739
Saul is one of the most dramatic of Handel's oratorios. Unlike some of his other oratorios, its thrilling drama reveals a close affinity to opera of the time. The chorus is used for the first time as a central component of a dramatic plot, but also assumes a commenting function, as in Greek tragedy. Therefore quite different expressive styles are required: sometimes majestic, sometimes lamenting or dance-like – there is no time to learn the notes in rehearsals!
Experience choral music. Anytime. Anywhere.

At home and out and about: Straight away your choral works will always be with you to practice! With carus music, the new choir app, you can follow the music whilst listening to a top-class recording on your smartphone or tablet, and easily practice your own choral part with the help of a coach. With carus music, your concert preparation will be easy and efficient to master – and fun!


Performers: Ditte Andersen (soprano), Anna Prohaska (soprano), Tim Mead (alto), Maximilian Schmitt (tenore), Eric Stokloßa (tenore), Yorck Felix Speer (basso), Clemens Heidrich (basso) – Dresdner Kammerchor, Dresdner Barockorchester – Hans-Christoph Rademann