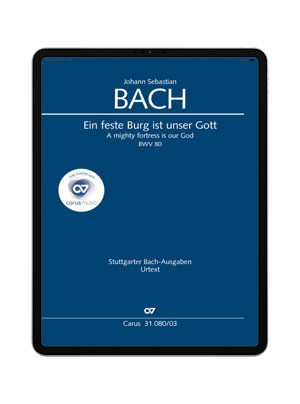 Johann Sebastian Bach
A mighty fortress is our God
cantata for Reformation Day
BWV 80
Bach's Reformation cantata, based on what is probably Martin Luther's most famous hymn, was composed in at least two stages of work, separated by a period of several years. The cantata Alles, was von Gott geboren was performed in March 1716, on Oculi Sunday (the third Sunday in Lent), so not far apart from Reformation Day. In the 1730s and 40s Bach reworked the cantata: amongst other things, he initially placed a simple chorale movement, later an expansive, motet-like chorale arrangement of the hymn Ein feste Burg ist unser Gott (A mighty fortress is our God) at the beginning, and created a magnificent Reformation cantata. It is this opening chorus which places particular demands on the choral singers: long phrases, sequences of eighth notes, where the notes need to sit securely so that they come across with lightness, and then the phenomenon which everyone in the choir is familiar with: never think with Bach that you know how it is going to continue – there is always something you had not anticipated!
With Bach's Reformation cnatata the coach offers not only the notes, but also the sung part. The coach is based on individual recorded parts sung by the Gaechinger Cantorey, making practising even more enjoyable! 



Experience choral music. Anytime. Anywhere.  
At home and out and about: Straight away your choral works will always be with you to practice! With carus music, the new choir app, you can follow the music while listening to a top-class recording on your smartphone or tablet, and easily practice your own choral part with the help of a coach. With carus music, your concert preparation will be easy and efficient to master – and fun!


Performers: Sarah Wegener (soprano), David Allsopp (alto), Thomas Hobbs (tenore), Peter Harvey (basso) – Kammerchor Stuttgart, Barockorchester Stuttgart – Frieder Bernius