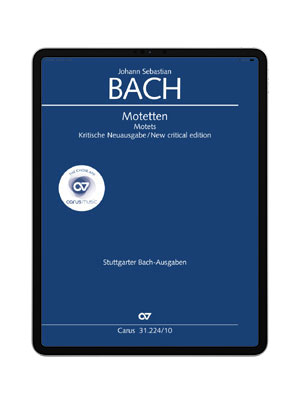 Johann Sebastian Bach
Be not afraid, I am with you
Motette
BWV 228, 1726 (?)
Wide leaps, completely exposed coloratura passages for the individual choral parts (including some real danger spots), combined with difficult entries and intervals. Only the soprano can relax a little at the end in the chorale – but please keep in strict time, otherwise the lower parts don't have a chance!
Experience choral music. Anytime. Anywhere.
At home and out and about: Straight away your choral works will always be with you to practice! With carus music, the new choir app, you can follow the music whilst listening to a top-class recording on your smartphone or tablet, and easily practice your own choral part with the help of a coach. With carus music, your concert preparation will be easy and efficient to master – and fun!
The Motets are sung in German. Performers: Kammerchor Stuttgart – Frieder Bernius