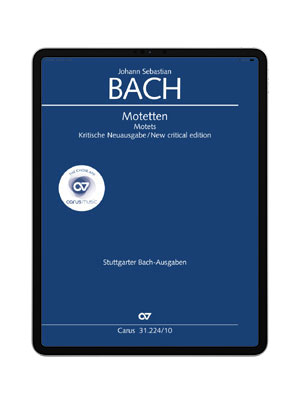 Johann Sebastian Bach
To thee will I cling, until I am blest
Motette
BWV Anh. III 159
This early motet, very probably by Johann Sebastian Bach, belongs to a quite different stylistic world than its better-known sister works. It is surely a work by a young composer: here, great sonority and security of intonation is required. And some of the intervals are quite challenging.
Experience choral music. Anytime. Anywhere.
At home and out and about: Straight away your choral works will always be with you to practice! With carus music, the new choir app, you can follow the music whilst listening to a top-class recording on your smartphone or tablet, and easily practice your own choral part with the help of a coach. With carus music, your concert preparation will be easy and efficient to master – and fun!
The Motets are sung in German. Performers: Kammerchor Stuttgart – Frieder Bernius