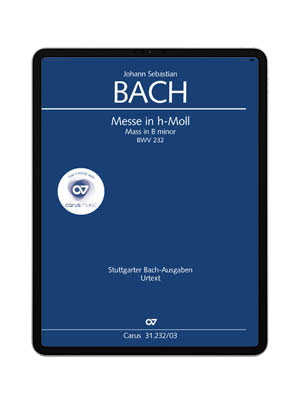 Johann Sebastian Bach
B minor Mass
BWV 232
Bach's Mass in B minor poses one of the really great challenges of the entire choral literature. The proportion of choir participation is very high and the choral settings are among the best that Bach composed: A performance of the Mass in B minor is one of the highlights of any "singer's life." However, the demands on the singer are certainly high, sometimes extremely virtuosic, and sometimes harmonically complex. And yet, Bach's Mass in B minor is a work full of mystery. Even though questions about the occasion for which it was composed must remain unanswered, the Carus edition guides you securely through complicated questions regarding the "correct" version and offers an altogether consistent musical text.
Experience choral music. Anytime. Anywhere.
At home and out and about: Straight away your choral works will always be with you to practice! With carus music, the new choir app, you can follow the music whilst listening to a top-class recording on your smartphone or tablet, and easily practice your own choral part with the help of a coach. With carus music, your concert preparation will be easy and efficient to master – and fun!
Performers: Carolyn Sampson (soprano), Anke Vondung (alto), Daniel Johannsen (tenore), Tobias Berndt (basso) – Gächinger Kantorei Stuttgart, Freiburger Barockorchester Consort – Hans-Christoph Rademann