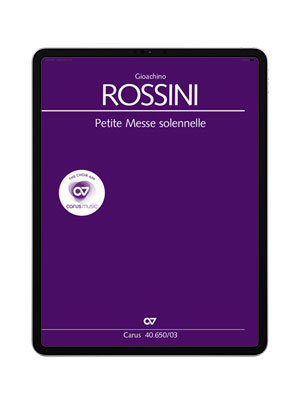 Gioachino Rossini
Petite Messe solennelle
1863
On the surface, the Petite Messe solennelle is an occasional work, written for the dedication of the private chapel of a well-to-do Parisian nobleman. Rossini himself never published the work. The typically Rossinian rhythms and capricious drama, entirely in operatic style, offer a choir the chance to show off its full range of abilities – provided it has mastered the challenges.


Experience choral music. Anytime. Anywhere.

At home and out and about: Straight away your choral works will always be with you to practice! With carus music, the new choir app, you can follow the music whilst listening to a top-class recording on your smartphone or tablet, and easily practice your own choral part with the help of a coach. With carus music, your concert preparation will be easy and efficient to master – and fun!


Performers: Andrea Lauren Brown, Sarah Wegener (soprano), Ulrike Andersen, Ulrike Bartsch (alto), Michael Feyfar, Georg Poplutz (tenore), Jonathan de la Paz Zaens, Dominik Wörner (basso) – Kirchheimer Vokal-Consort, Simon Bucher (piano), Andreas Gräsle (harmonium) – Tõnu Kaljuste