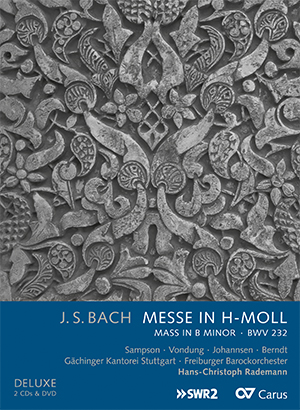 Johann Sebastian Bach
B minor Mass
BWV 232
The Mass in B minor by Johann Sebastian Bach is one of the central sacred vocal compositions in the history of music. Hans-Christoph Rademann has now devoted his first CD as director of the Internationale Bachakademie Stuttgart to this outstanding work and, together with the Gächinger Kantorei Stuttgart and the Freiburger Barockorchester as well as renowned soloists in the field of historically informed performance practice, has set new artistic standards.

Although the Mass in B minor is one of Johann Sebastian Bach's most frequently performed vocal works, it continues to present performers and scientists with new enigmas and problems. This applies not only to the still unanswered question of why Bach composed but never performed this work, but also continues to the core of the musical text. Until his death, Bach himself repeatedly revised his Opus ultimum without ever leaving a final version. Directly after his death, the original manuscript was massively changed by his son Carl Philipp Emanuel; changes which, until today, pose many questions to researchers.

The present new recording rigorously follows – in the Kyrie and Gloria – Bach's own meticulously configured "Dresdner Stimmen" [Dresden parts] and is thereby based, for the first time, exclusively on the musical text that emanated from Johann Sebastian Bach's pen. Furthermore, additional movements with marked deviations from today's familiar version have been made accessible as variants in the bonus material. The recording is based upon the new edition by the renowned Bach and Mozart scholar Ulrich Leisinger in cooperation with the Staatsbibliothek zu Berlin and the Bach-Archiv Leipzig, who also prepared the introduction in the CD booklet.
This Deluxe version contains, in addition to the CDs and a comprehensive booklet, a bonus DVD with additional material:
- Film: Bach's Secret Legacy. Hans-Christoph Rademann in search of the true B-minor Mass
- Live Concert Recording: "Kyrie eleison I", live in the Beethovensaal, Liederhalle Stuttgart (31 January 2015)
- Bach's Manuscript: The "Dresden Parts" of 1733 in PDF format
 Awarded the Preis der deutschen Schallplattenkritik
Awarded the Pizzicato Supersonic Award