Favorite Work of April 2019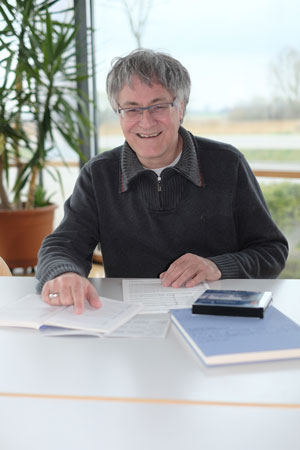 Every month a member of the Carus team introduces one of their favorite works, whether it be a choral piece, a CD, a song book, or an organ work. The contribution for April 2019 comes from our Chief Editor Dr. Uwe Wolf.


Heinrich Schütz: Anima mea liquefacta est / Adiuro vos, filiae Hierusalem SWV 263–264
What superb music! You think you will hardly be able to bear the tension! Ever since I heard these two companion pieces for two tenors, two cornetts, and continuo over 30 years ago (on an LP record!), they have fascinated me as few other compositions amongst Heinrich Schütz's amazing output. Since then I have heard them countless times in a huge variety of recordings, and have even taken part in performances myself a few times. And this music still gets right under my skin! In particular, the end of the second part packs quite a punch. After a recitative section which concludes with a fermata, there are two tutti measures at the word "quia" ("because"), which almost seem to open a door: this suddenly feels like music scored for large forces, yet there are still only four parts plus basso continuo. After a further fermata, the music at the words "quia amore langueo" ("because I languish for love") turns into an imitative song of lamenting, liberally sprinkled with dissonances. Yet despite the suspensions which dovetail into each other, nothing sounds "false", but the tension produced is almost impossible to listen to.
Schütz had been living in Venice for just under a year when he had this pair of works published in the Symphoniae sacrae I in September 1629. An earlier version of the composition, scored for similar forces, survives in manuscripts. Some things from the early form of the work can be recognized in the printed version, yet worlds lie between the two versions. The dissonant final section (and the highly effective fermatas) are also missing. Here we notice quite directly something of Schütz's encounter with new Venetian music, which had "greatly changed ... and markedly improved" following his first Venice trip – and in which Claudio Monteverdi now set the tone.
---
Dr. Uwe Wolf has been Chief Editor of Carus-Verlag since October 2011. Before that he worked in Bach research for 20 years. As a cornett player he participated in many performances of works by Heinrich Schütz in the 1980s and 1990s.
Heinrich Schütz spent his whole life searching for that which is new in music. The Symphoniae Sacrae I , which were presented in 1629, also testify to this. Schütz composed them as a result of...
Compact Disc, 2 Ex.
Shop