Newsletter December 2017
Dear readers,

An "incredible project", in the words of our Chief Editor Uwe Wolf, is now complete! Now all the motets, masses, Passions and oratorios, and a good 200 sacred cantatas by J.S. Bach, the famous Kantor of St. Thomas's, are available in modern Urtext editions, together with performance material for choir and orchestra. Therefore on 9 December 2017 we invite you to a symposium with a panel of leading scholars at the Bach-Archiv in Leipzig to celebrate the conclusion of this major editorial project. The Complete Edition of all the scores in high-quality box sets will be launched at this event; this concludes the Bach vocal editorial project.

We wish you much enjoyment in exploring our varied new publication program, and a lovely Advent season.

With best wishes, Carus-Verlag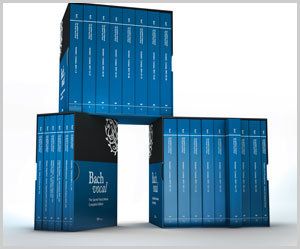 NOW AVAILABLE
Bach vocal Complete edition
edited by Ulrich Leisinger and Uwe Wolf in collaboration with the Bach Archive Leipzig

With the Bach vocal project, we are publishing Johann Sebastian Bach's complete sacred vocal music in a high-quality complete edition (23 volumes in three slip cases).


Introductory price (valid through 30.6.2018):
629 Euro
Final price (valid from 1.7.2018):
769 Euro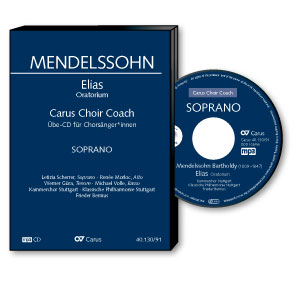 CARUS CHOIR COACH
Mendelssohn: Elijah
Characterized by gripping drama and at the same time by an intimacy of trust in God, something which was no longer a matter of course even in Mendelssohn's lifetime, this oratorio offers a wealth of musical means of expression.

carusplus:
Carus Choir Coach offers choral singers the unique opportunity of practicing their voice part individually as part of the overall sound of choir and instruments with the help of a CD.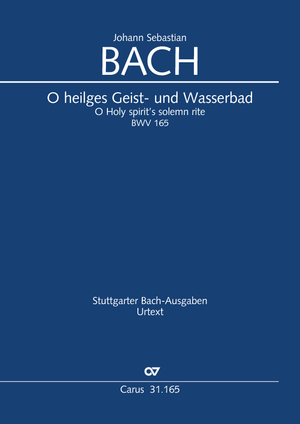 BACH VOCAL
Two new cantatas
Two new Bach cantatas are new available this month: O heilges Geist- und Wasserbad (O Holy Spirit's solemn rite) BWV 165 and Ihr Menschen, rühmet Gottes Liebe (You mortals, tell of God's devotion) BWV 167, in the customary Urtext quality, and naturally with complete performance material.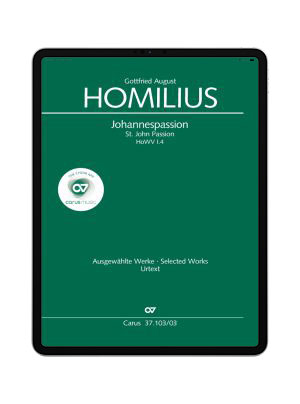 CARUS MUSIC, THE CHOIR APP
Bach and Homilius
Not a month goes by without new releases in carus music, the choir app. New in December are Homilius's St. John Passion und J. S. Bach's cantata Gott, der Herr, ist Sonn und Schild (God the Lord is sun and shield) BWV 79. With carus music, the choir app, you can follow the music while listening to a top-class recording on your smartphone or tablet, and easily practice your own choral part with the help of a coach.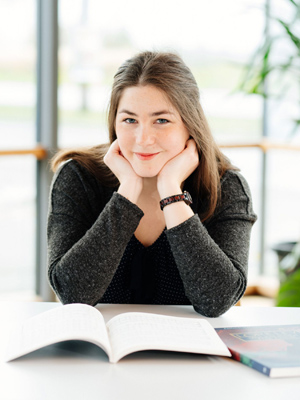 FAVORITE WORK
Loreley choral collection
Mendelssohn's Wedding March combined with the Birds' Wedding? When we played this audio sample from the accompanying CD to the new Loreley choral collection in a workshop given by the editor Volker Hempfling at chor.com in Dortmund earlier this year, some people in the audience could hardly suppress their smiles. By this point at the latest, two things were clear to all the participants: namely, that folk songs are not in the slightest bit boring, and that three-part settings with just one male voice part can sound just as good as their four-part equivalents.