Newsletter April 2016
Dear readers,
This year we are pleased to be taking a very special bundle of new issues with us to the International Frankfurt Music Fair: a new series with vocal scores in reader-friendly Large Print is being launched, and new choral collections, as well as lots of other new publications await you. You will find an overview of our Music Fair highlights in this and the coming newsletter.
We are particularly pleased to receive two BEST EDITION awards of the German Music Publishers Association which will be presented during the Frankfurt Music Fair on 8 April. carus music, the choir app, and the choral collection for youth choir Mehr als Worte sagt ein Lied.

With best wishes, Carus-Verlag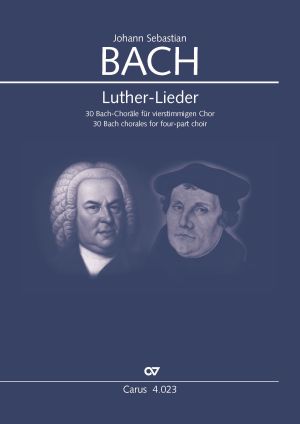 CHORAL COLLECTIONS
Luther Lieder in settings by J. S. Bach for mixed choir SATB
We present two new choral collections:
30 four-part "Bach chorales" based on hymns by Martin Luther using the version of the text from the Protestant hymnbook – a must-have for the forthcoming Reformation anniversary in 2017!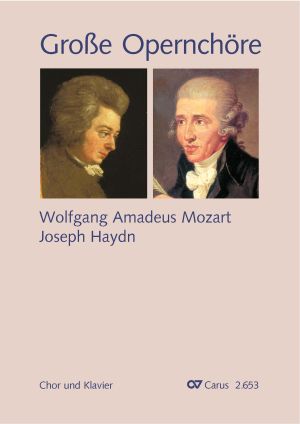 19 opera choruses by Wolfgang Amadeus Mozart and Joseph Haydn, arranged for choir with piano accompaniment. The edition follows on from our successful series Mozart · Haydn and continues the Great Opera Choruses choral collections.
>> New choral collections
>> All choral collections at Carus
Please notice:
Starting on 1 April we are offering a new discount if you buy multiple copies: you can purchase our choral collections and all other choral editions (minimum 20 copies) at a lower price: if you buy 40 copies we give a 10% discount, and 60 copies or more receive a 20% discount.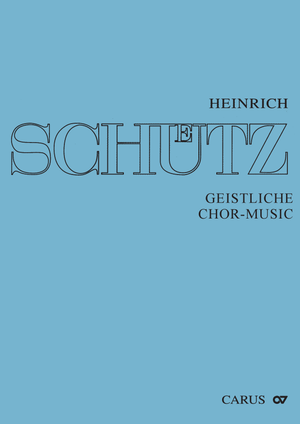 URTEXT EDITIONS
Schütz: Geistliche Chor-Music 1648
New Urtext editions of choral music expand our publishing program. Schütz's Geistliche Chor-Music 1648 is a collection of 29 motets for five to seven-part choir, and is one of Schütz's key works. Separate editions of all the motets are available.
Gioachino Rossini's Stabat Mater is one of his larger-scale church music works. With our newly-published arrangement for chamber orchestra, smaller choirs now have the opportunity of performing this work without the choir being drowned out by a large-scale symphony orchestra. The symphonic character of the work is nevertheless preserved.

>> Choral music – new issues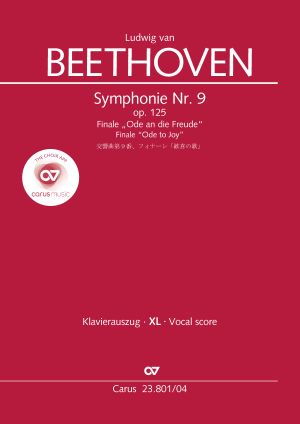 NEW SERIES: READER-FRIENDLY LARGE PRINT
Vocal scores XL
With Vocal scores XL we are now offering important choral works in reader-friendly large print. Our newly-launched series will help all those who soon find reading small-sized notes and text tiring. Try them out – we're interested in your feedback!
All vocal scores XL are available (or in preparation) in carus music, the choir app, and the practice CD series Carus Choir Coach.
>> All Vocal scores XL
>> Carus Choir Coach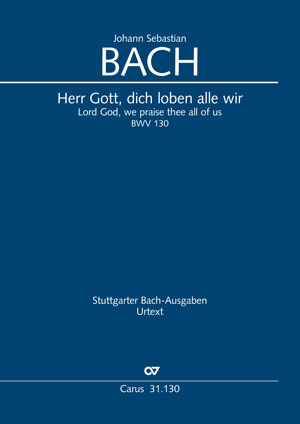 BACH VOCAL
Bach: Lord god, we praise thee all of us
The chorale cantata "Lord God, we praise thee all of us" BWV 130 from 1724 is a magnificent composition. The original parts suffered a unique fate: in the first half of 19h century the parts were cut up for autograph collectors, auctioned off and scattered to the four winds. Some of the parts have only become available in recent years and could be assessed here for the first time for a critical edition.

>> See the cantata
>> All Bach cantatas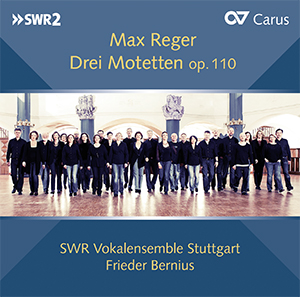 NEW CDS
Reger: Three motets op. 110
Max Reger's large choral motets op. 110 are great spiritual representations of the human soul – fashioned during the last days of tonality. In addition to the three choral motets, for this CD the SWR Vokalensemble Stuttgart, under the direction of Frieder Bernius, also performs Reger's seldom recorded chorale cantata "O Haupt voll Blut und Wunden," – a true feast for all friends of choral music.
Further new CDs are André Campra's Messe de Requiem with the ensemble3 vocal et instrumental under the direction of Hans Michael Beuerle and the St. John passion of Schütz with the Dresdner Kammerchor under the direction of Hans-Christoph Rademann.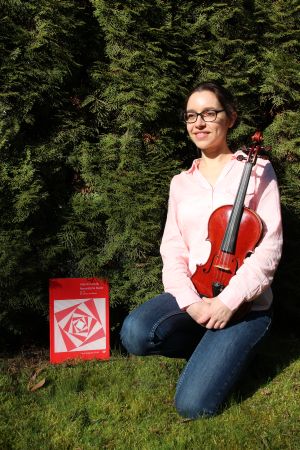 FAVORITE WORK
Antonín Dvorák: Romantische Stücke op. 75
You can read about our colleague Isabelle Métrope's experiences as a teenager in her final examination on viola at a French music school playing the Romantic Pieces op. 75 by Antonín Dvorák!