Newsletter April
Dear readers,

An absolute sensation - the rediscovery of organ works by Giacomo Puccini we are publishing for the first time in the critical complete edition Edizione Nazionale delle Opere di Giacomo Puccini. Beforehand, this month we bring you a selection of pieces unknown until now in a practical performing edition: Sonate, Versetti, Marce. Selected Organ Works. Within our urtext repertoire, we have published the first critical edition of Handel's oratorio Judas Maccabaeus this month.
In 2020 we will be celebrating a major Beethoven anniversary together! Before then you can look forward to some exciting new choral publications. The first of these is the new Carus Choir Coach for Beethoven's Mass in C. With this, you can practise your vocal part individually with the help of a practice CD.
We wish you much enjoyment in browsing through and making discoveries in our new publications.
With best wishes,
Carus-Verlag
SENSATION: PUBLISHED FOR THE FIRST TIME
Puccini: Selected Organ Works
It has only recently become known that in his youth, Giacomo Puccini composed a large number of organ works, which are mainly very short. A selection of twelve pieces from this repertoire is published here for the first time. This invites the discovery of a previously-unknown facet in the work of this composer, known above all for his operas.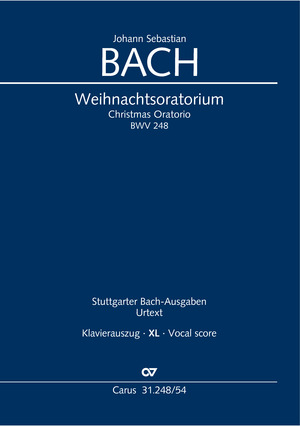 BACH
VOCAL
Vocal scores XL in large print
With the Mass in B minor BWV 232, the Christmas Oratorio BWV 248 and the St. Matthew Passion BWV 244 we are adding three further works by Johann Sebastian Bach to our large print series Vocal scores XL.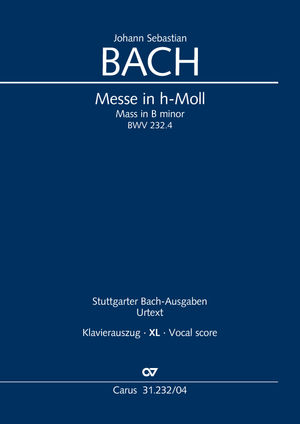 carus
plus:
The three works are available in
carus music, the choir app
. They are also available in the CD series
Carus Choir Coach
as practice aids for choral singers.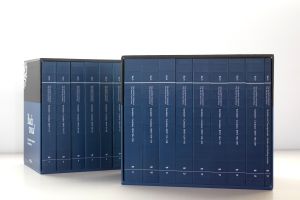 COMPLETE EDITION
All Bach cantatas and motets

With the Bach vocal project, we have published Johann Sebastian Bach's complete sacred vocal music in a high-quality complete edition.


the most current state of Bach research

reader-friendly and handy format

the only modern Bach edition for which complete performance material is available for sale

Only available at the introductory price until 30 June 2018:
Cantatas and Motets (2 slip cases):
549 Euro instead of 649 Euro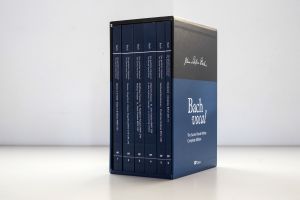 Masses, Passions and Oratorios (1 slip case): 139 Euro instead of 199 Euro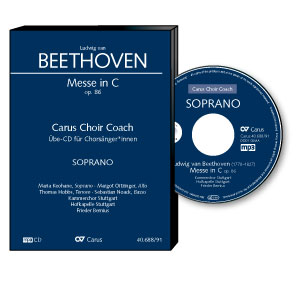 CARUS CHOIR COACH
Beethoven: Mass in C major
Beethoven Anniversary
The Carus Choir Coach offers choir singers the unique opportunity to study and learn their own, individual choral parts within the context of the sound of the entire choir and orchestra.

NEW: Beethoven's Missa in C ist now available as MP3 CD.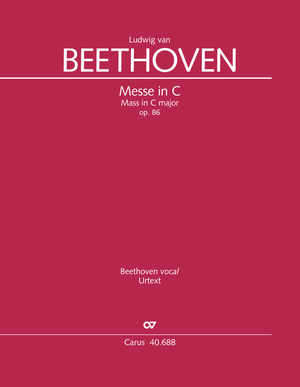 The Mass is available from us in a critical edition by Beethoven expert Ernst Herttrich, together with complete performance material.
Further topics: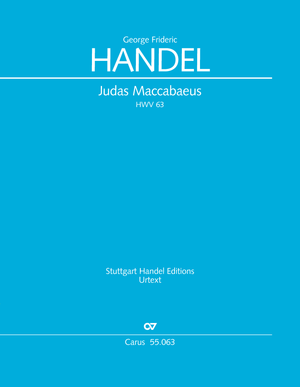 FIRST CRITICAL EDITION
Handel: Judas Maccabaeus
The oratorio Judas Maccabaeus is one of George Frideric Handel's most popular choral works. It was performed over fifty times during the composer's lifetime. This new edition therefore offers the work in two performable versions: firstly, the version of the first performance in 1747, and the one from the last oratorio season during Handel's lifetime (1758/59). This makes available all the choruses and arias which Handel ever wrote for Judas Maccabaeus. › See Edition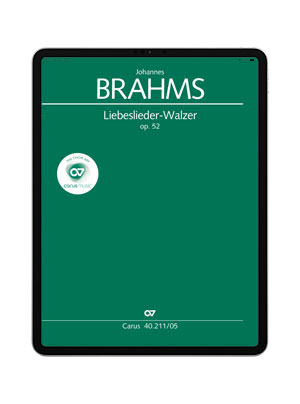 CARUS MUSIC, THE CHOIR APP
Brahms: Liebeslieder Waltzes op. 52
The Liebeslieder Waltzes op. 52 and the subsequent New Liebeslieder Waltzes op. 65 are amongst the most popular works by Johannes Brahms (1833-1897). Alongside the Waltzes op. 39 and the Hungarian Dances it was these Liebeslieder which made Brahms well-known.

The Liebeslieder Waltzes are newly released in April in carus music, the choir app. With carus music, the choir app, you can follow the music while listening to a top-class recording on your smartphone or tablet, and easily practice your own choral part with the help of a coach.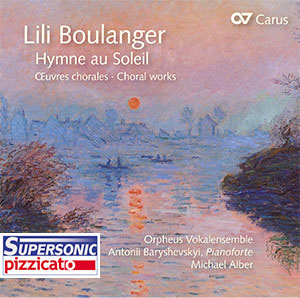 NEW FROM THE LABEL
Lili Boulanger: Hymne au Soleil. Choral works
This CD with the Orpheus Vokalensemble is being issued in 2018, on the occasion of the centenary of her death. Due to her individual musical language, its diversity of color, its metaphorical content and its poetry, Lili Boulanger can be counted as one of French Impressionism's great artists. We would have liked to have heard more of her music. › See CD
In preparation:
In June 2018 both the Hymne au Soleil and Psaume 24 for four-part mixed choir, soloists and piano will be published in the first critical edition by Carus-Verlag.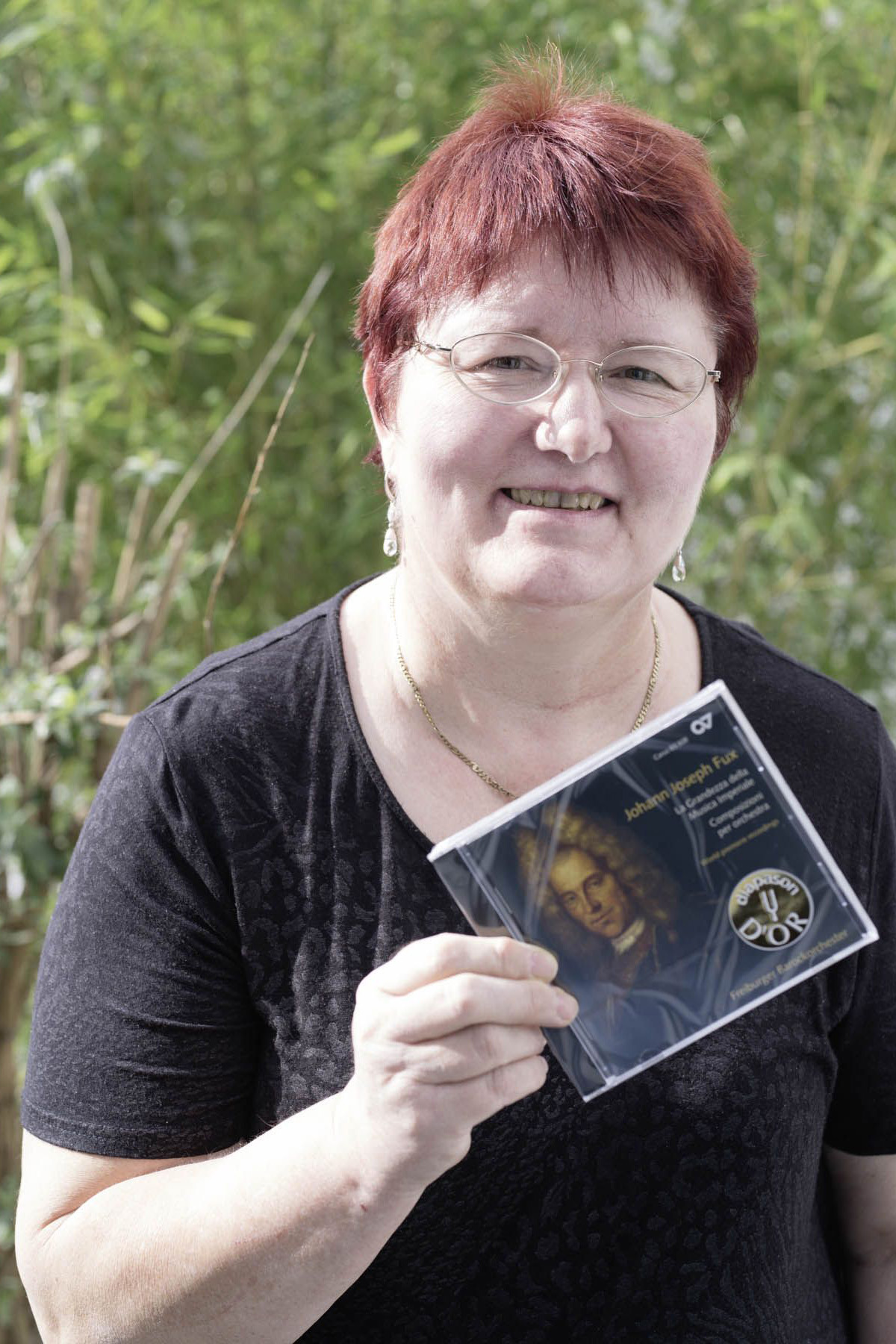 FAVORITE WORK
Johann Joseph Fux: La Grandezza della Musica Imperiale

In the course of Fux research, which had its beginnings in the mid-19th century with the catalogue of works by Ludwig von Köchel, some works were rediscovered, including orchestral compositions recorded here by the Freiburg Baroque Orchestra conducted by Gottfried von der Goltz. The favorite piece of Luise Schrumpf in this first-class recording is the Ouverture in D minor, which she cannot hear too much of... › My favorite work