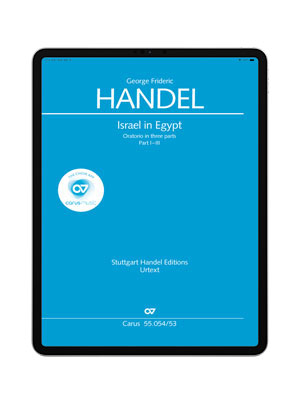 Georg Friedrich Händel
Israel in Egypt - Part I-III
HWV 54,5, 1739
Handel's "Israel in Egypt" is not only a large-scale oratorio, but in particular, the chorus has a major part to sing, and the soloists less so. The carus music version contains all three parts of the oratorio. In the first part, which can also be separately performed as the Funeral Anthem, the corresponding singing text is underlaid additionally in italics. In "Israel in Egypt" a wide range of expression is required from the chorus – sometimes rejoicing festively, sometimes dramatic and expressive. Confidence in the text and the notes is a prequisite, so that these contrasts can be shown to their best advantage. Practice makes perfect! 


Experience choral music. Anytime. Anywhere. 
At home and out and about: Straight away your choral works will always be with you to practice! With carus music, the new choir app, you can follow the music while listening to a top-class recording on your smartphone or tablet, and easily practice your own choral part with the help of a coach. With carus music, your concert preparation will be easy and efficient to master – and fun!



Performers: Antonia Bourvé, (soprano), Cornelia Winter (soprano), Terry Wey (alto), Michael Hofmeister (alto), Jan Kobow (tenore), Konstantin Wolff (basso), Markus Flaig (basso) – Vocalensemble Rastatt, Les Favorites – Holger Speck