Newsletter February 2016
Dear readers,
Lent and Passiontide are almost upon us. As well as the great Passions, at Carus we can also offer you a wide range of smaller works for different scorings. We have put together an overview from our publishing program. Many of the smaller works are available in different collections as well as in reasonably-priced single editions. Discover for yourself!

We will soon be releasing a new recording of Bach's St Matthew Passion with Frieder Bernius and the Kammerchor Stuttgart. Once again the recording sets new standards in both performance and artistry. The work will be released at the same time in carus music, the choir app.
The Paderborner Chorbuch offers a representative selection of Romantic choral music for male voices. We are now releasing a CD with the internationally-renowned Taipei Male Choir. This CD is currently available from our web shop at the introductory price of just 9.90 Euros instead of 19.90 Euros.
With best wishes, Carus-Verlag
Smaller works and CDs for Passiontide
If you are searching for repertoire for Lent and Passiontide, you can use the different search options in our online shop: as well as the general overview, you have the option of sorting the hits according to particular categories by using the filters (scoring, genre, level of difficulty, duration) on the left-hand side.
>> All Passion settings
>> Other works for Lent and Passiontide
We have also compiled an overview of CDs on the theme of Passiontide for you.
>> All CDs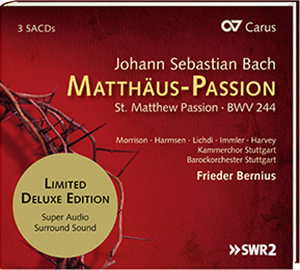 PRE-ORDER NOW
J. S. Bach: St. Matthew Passion
Frieder Bernius's recording of the St. Matthew Passion uses the edition from Carus-Verlag by the renowned Bach expert Klaus Hofmann, and once again this outstanding artist sets high standards in artistic and performance terms. Under Bernius's direction, the Kammerchor and Barockorchester Stuttgart master this monumental composition with a filigree-like sound, portraying the Passion of Christ with incomparable musical, emotional and spiritual intensity.
The recording (3 CDs) is released on the Carus label in March in two formats - stereo CD and in a limited deluxe edition in a high-quality digibook at Super Audio Surround Sound. You can pre-order copies.
>> Listen now!
At the same time as the CD, the work will also be released in carus music, the choir app, offering choral singers a perfect opportunity of giving a final polish to this demanding work before a concert performance.

With our edition, together with the new recording of these settings and carus music, the choir app, to help your singers practice their parts, nothing stands in the way for a successful performance of this incomparable, meaningful Protestant church music!
>> Information on the work in carus music
>> Edition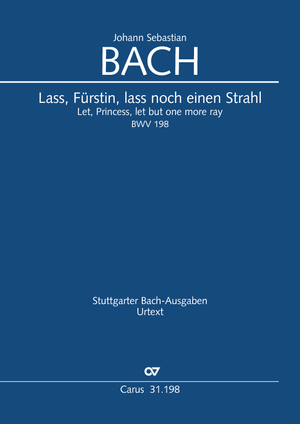 BACH VOCAL
Let, Princess, let but one more ray BWV 198
Composed in 1727 for a "eulogy and funeral oration" for Electress Christiane, the music of this funeral ode is well-known today, particularly through reconstructions of Bach's St Mark Passion, in which large parts of this cantata were probably re-used. You can read about Bach's use of parody techniques in the latest edition of our magazine, in a fascinating article by our Chief Editor Uwe Wolf.
>> Articel (PDF)
>> Edition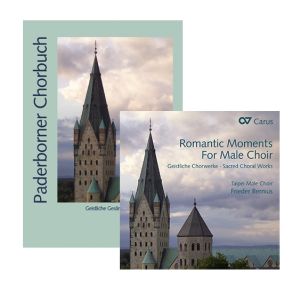 CD AT SPECIAL PRICE
Romantic Moments for Male Choir
A multi-faceted cross-section of fascinating works for men's choir from the Romantic era feature on our new CD, recorded by Frieder Bernius with the multi-prizewinning Taiwanese singers of the Taipei Male Choir. You can order this CD from our web shop until 29 February 2016 at the introductory price of just 9.90 Euros instead of 19.90 Euros. The works on the CD are also available as sheet music in the Paderborner Chorbuch.
>> CD
>> Choral collection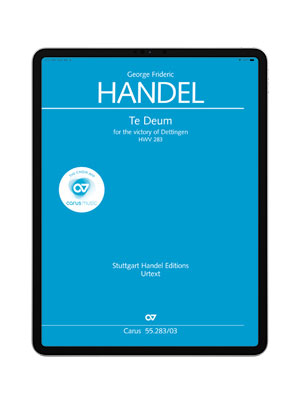 NEW IN CARUS MUSIC
Händel: Dettingen Te Deum
New repertoire in carus music. As well as "Messiah" we've now released Handel's "Dettingen Te Deum" in carus music, the choir app. With carus music, even learning this festive work on your own is fun!
>> Edition
>> More information on carus music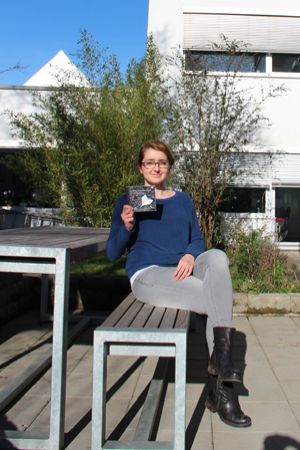 FAVORITE WORK
Die Kinder des Monsieur Mathieu. Songs from the motion picture "The Chorus"
The film "The Chorus" (Les Choristes) was one of the most successful French films of recent years, thanks in particular to the wonderful music of Bruno Coulais. As many other viewers, Martyna Grobelna was deeply moved back in 2004 by this multi prizewinning film music. Carus, too, made a small contribution to this story: As well as a CD with three of the most beautiful songs from the film arranged for two-part children's choir a sheet music edition is available within the series chorissimo! Movie.