Newsletter July 2018
Dear readers,

At Carus we are delighted to be able to present a further newly-published Handel oratorio in the lovely summer month of July. Following the recent publication of the two oratorios Saul and Alexander's Feast, Judas Maccabaeus has now been published – for the first time in a critical Urtext edition! And the complete performance material is naturally also available to purchase.
New in the Carus program are two choral pieces by the French composer Lili Boulanger, the 100th anniversary of whose death occurred earlier this year. We have also released some of Boulanger's works on a CD recording!
Have fun discovering about our new issues for July.
With best wishes,
Carus-Verlag
Judas Maccabaeus
The oratorio Judas Maccabaeus is one of George Frideric Handel's most popular choral works. The new edition offers the work in two performable versions: firstly, the version of the first performance in 1747, and the one from the last oratorio season during Handel's lifetime (1758/59). This makes available all the choruses and arias which Handel ever wrote for Judas Maccabaeus.
First critical edition, with complete performance material.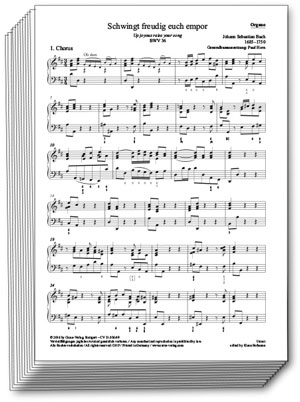 BACH
VOCAL
The complete organ parts of the sacred choral music in a set
It's complete! All the organ parts for the complete sacred vocal works by Johann Sebastian Bach are available from Carus either separately, or in an economically-priced set of practical performing editions.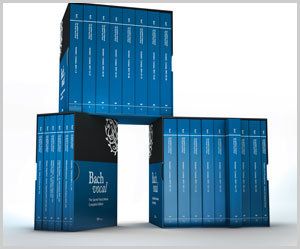 Last year we completed our publication of the complete sacred vocal music of Johann Sebastian Bach, making these works available as a box set. Following on from this, we are now offering an economically-priced set of the organ parts for all the sacred vocal compositions (a total of 209 works) – from BWV 1 Wie schön leuchtet der Morgenstern (How beauteous is the morning star) to the Easter Oratorio BWV 249.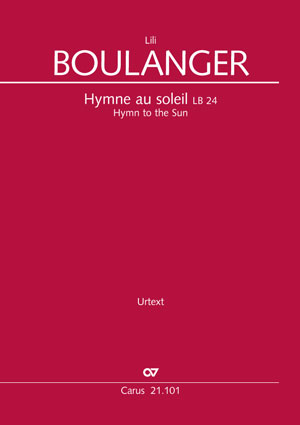 FIRST EDITIONS
Lili Boulanger (1893-1918)
Together with Debussy, Ravel, and Dukas, Lili Boulanger was one of the most important representatives of impressionism. She was the first woman to win the renowned "Prix de Rome" in 1913.
Boulanger's Hymne au soleil (Hymn to the sun) for four-part choir, alto solo, and piano sets a poem by Casimir Delavigne.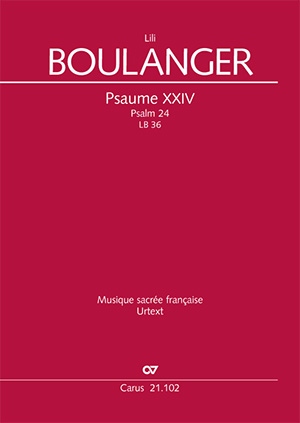 Her setting of Psaume 24 (Psalm 24) for four-part choir, tenor solo and piano is an impressive work which can be included, for example, in an Advent service. Both new publications are critical first editions. The editions contain both the original French text, and a singable English translation underlaid.
As well as the two editions, a CD with works by Boulanger has been released by Carus-Verlag. › See CD
Further topics: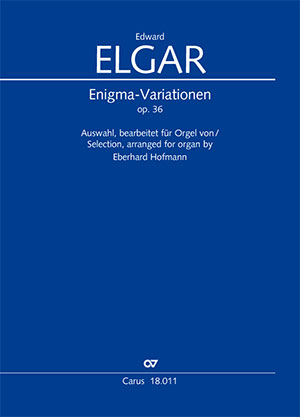 ORGAN MUSIC
Edward Elgar: Enigma Variations op. 36
Selection, arranged for organ by Eberhard Hofmann
These arrangements of the wonderful variations are based on the two original versions for orchestra and for piano. The arrangements of these variations are of moderate difficulty and are equally suitable for performance in concert or church services.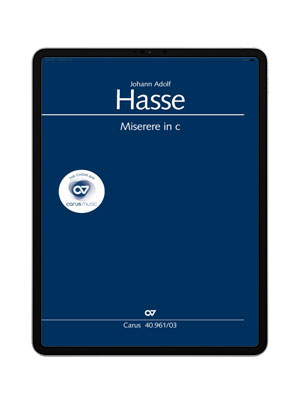 OUR CHOIR APP CARUS MUSIC
Hasse: Miserere in C minor
With our edition of Hasse's Miserere in C minor in the version for mixed choir, a work which has previously existed exclusively for women's choirs has been made available for general use.
This version of the Miserere is now newly available in carus music, the choir app. With carus music, the choir app, you can follow the music while listening to a top-class recording on your smartphone or tablet, and easily practice your own choral part with the help of a coach.
Not familiar with carus music, the choir app, yet? Over 80 choral works are already available in it. You can discover more about them here!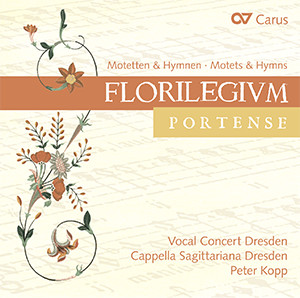 NEW FROM THE LABEL
Florilegium Portense
Motets & Hymns (Selection)
Vocal Concert Dresden
Cappella Sagittariana Dresden
Peter Kopp
400 years after its publication, the Vocal Concert Dresden pays tribute to this important collection of music with a recording of selected motets and hymns, including several first recordings.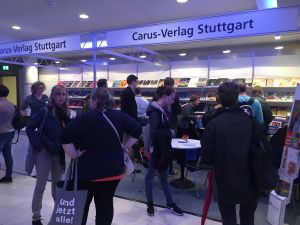 EVENTS
Carus on tour
Upcoming events in July / August:
25.07.–05.08.2018, Europa Cantat, Tallinn, Estonia
24.-26.08.2018, Association of British Choral Directors (ABCD) Convention, Leed, GB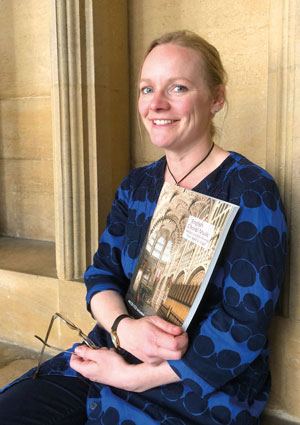 FAVORITE WORK
English Choral Music
Dr. Mirjam James grew up with church music and over the years her interest in (church) music has developed considerably: the musical interests of her English family have left their traces. Browsing through the collection English Choral Music Mirjam James and the men in her life (husband and son) also discovered some of their favorites: Stanford in C! one of them calls out, before both simultaneously sing Charles Villiers Stanford's Magnificat from memory.