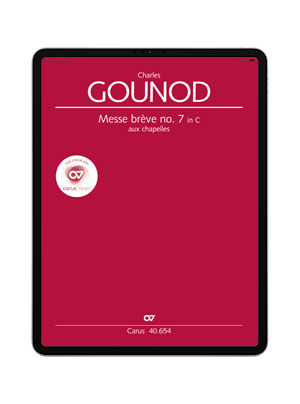 Charles Gounod
Messe brève no. 7 aux chapelles
CG 72b, 1890
The title Messe brève no. 7 is absolutely right for this composition. No movement lasts longer than five minutes, and as well as that, Gounod does not set the Credo. That movement is to be sung congregationally. And this makes the Mass extremely suitable for any festive church service. It is equally popular and suitable repertoire for smaller choirs because of its cantabile character and moderate difficulty level. Gounod's characteristic of his declamatory style of matching motifs closely to the rhythm of the words, and of following the natural speech rhythms through recitation on one note is evident straight away in the Kyrie and, once you have heard it, it is really easy to remember.

There is no recording of the Benedictus in the Appendix of this work. For this reason, in the app version only the music is shown (without recording/coach/slow options).
Experience choral music. Anytime. Anywhere.
At home and out and about: Straight away your choral works will always be with you to practice! With carus music, the new choir app, you can follow the music whilst listening to a top-class recording on your smartphone or tablet, and easily practice your own choral part with the help of a coach. With carus music, your concert preparation will be easy and efficient to master – and fun!
Performers: Mirko Ludwig (tenore), Gunter Troje (basso) – Kammerchor "I Vocalisti" – Hans-Joachim Lustig