Newsletter November 2018
Dear readers,

we are delighted to be able to present a very special new publication to you this month – the choral collection Hallelujah. With our Gospels and Spirituals volume, Carus-Verlag is focussing on the world of African American Folk songs for the first time. This publication provides you with around 30 arrangements for four-part mixed chorus – promising not only lots of fun when singing, but also a great introduction for choirs who have little previous experience of this repertoire.




We are expanding our program of sacred vocal works by Franz Schubert this month with our publication of the Stabat Mater D 383. This means that all the larger sacred vocal works by the Viennese composer are now available from Carus.
With best wishes, Carus-Verlag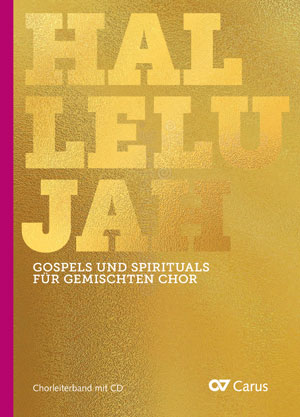 NEW CHORAL COLLECTION
Hallelujah. Gospels and Spirituals for mixed choir
ed. Volker Hempfling and Stanley Engebretson (Washington, USA)
The choral collection transports us into the fascinating world of African American Folk songs. Around 30 gospels and spirituals have been arranged for mixed choir, unaccompanied or with piano.
medium difficulty level
a good introduction for choirs with little previous experience of this repertoire
includes popular classics such as Amazing grace, Deep river,Go down Moses, Good News, Nobody knows, Joshua fit the battle of Jericho and Kumbaya
Now available at the introductory price (valid until 30.11.2019).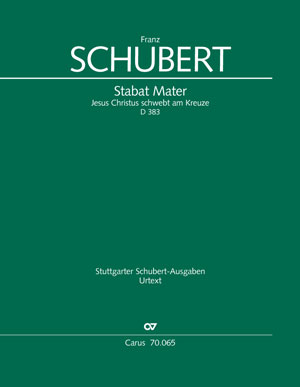 URTEXT EDITIONS
Stabat Mater
In spring 1816 Franz Schubert, just nineteen years old, completed his second setting of the Stabat Mater in the midst of a highly productive period. The Stabat Mater is a rewarding work for choral societies and choirs to perform, because the choir has the largest portion to sing, and the choral parts are not too demanding. The present edition is the first one of this work to be based on a critical evaluation of the primary sources, with complete performance material.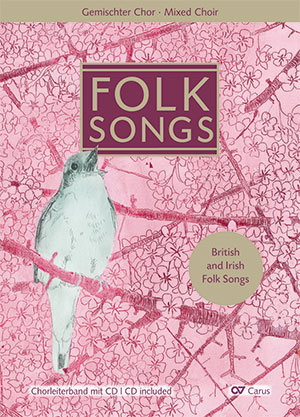 LIEDERPROJEKT
Choral Collection Folk Songs
The latest installment of the LIEDERPROJEKT invites you on a musical journey of discovery tracing traditional folk songs! Editor Mirjam James has traced the musical traditions of the British Isles way before the Beatles, and has compiled a superb selection of folk songs to make a wonderful choral collection. The choral edition (editionchor) is now available at attractive prices for bulk quantities (for 20 copies or more).
Further Topics: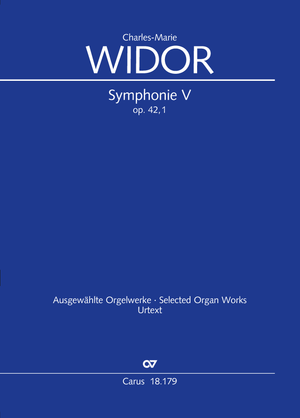 ORGAN MUSIC
Widor: Symphony No. V pour Orgue
It is no coincidence that the Toccata from Widor's Vth Organ Symphony is his best-known composition. The Carus Urtext edition is based on the Paris edition of 1928/29, the last one to be published during Widor's lifetime.
Charles-Marie Widor:
Great organ works:
Series A:
- Symphony II op. 13 no. 2
- Symphony IV op. 13 no. 4
- Symphony V op. 42 no. 1
- Symphony VI op. 42 no. 2
- Symphony Romane op. 73 in preparation
Subscription offer for Series A: 20% discount off the retail price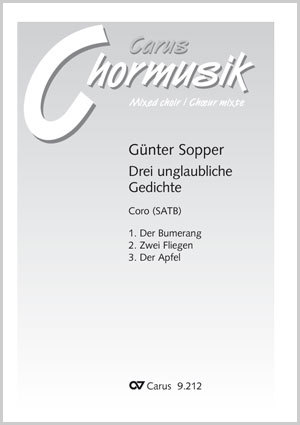 CONTEMPORARY CHORAL MUSIC
Günter Sopper and Naomi Crellin
The Drei unglaubliche Gedichte by Günter Sopper expand the repertoire of humorous choral works with a literary and musically demanding work, well within the capabilities of amateur choirs.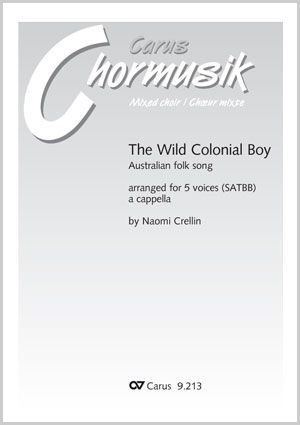 Australian folk music, like most folk music around the world, is a vehicle for storytelling. Many nights were spent around a campfire singing songs and telling tales of legendary figures who roamed Australia's wild bush.
›› All contemporary choral works at carus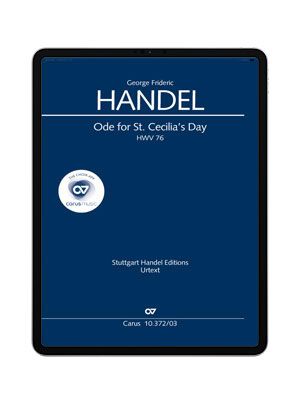 OUR CHOIR-APP CARUS MUSIC
Handel and Distler
With his Ode for St. Cecilia's Day (HWV 76) Handel revived the old tradition of a festival on St Cecilia's Day in 1732. Called the "short" Ode to St Cecilia, the work is a joyful musical song of praise to the power of music.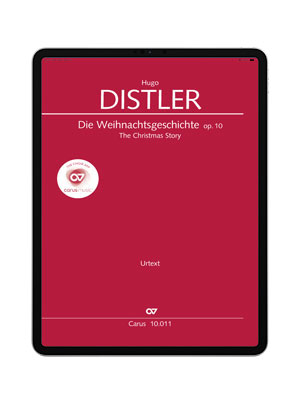 The Christmas Story op. 10 by Hugo Distler is, in its touching tenderness, one of the most beautiful temptations for any a cappella ensemble in Advent or Christmas time. All the solo parts can easily be sung by members of the choir.
With carus music, the choir app, you can follow the music while listening to a top-class recording on your smartphone or tablet, and easily practice your own choral part with the help of a coach.
Not familiar with carus music, the choir app, yet? Over 80 choral works are already available in it. You can discover more about them here! ›› All works in carus music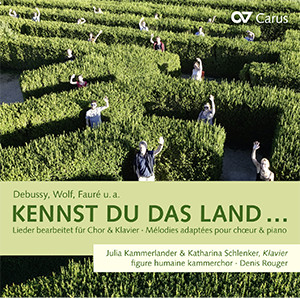 NEW FROM THE LABEL
Kennst du das Land...
Familiar, but unfamiliar – known, but not well-known – this is the credo of the figure humaine kammerchor and its founder and conductor Denis Rouger. On their first CD "Kennst du das Land ..." the artists present French as well as German solo songs in arrangements for choir. › See CD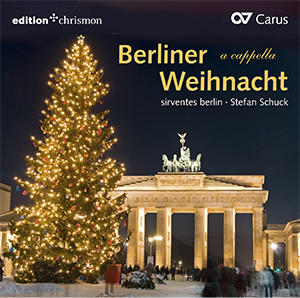 The Berlin vocal ensemble sirventes berlin and its director Stefan Schuck present a real Berlin Christmas CD: Berlin composers from the 19th to 21st centuries are collected here on one CD. › See CD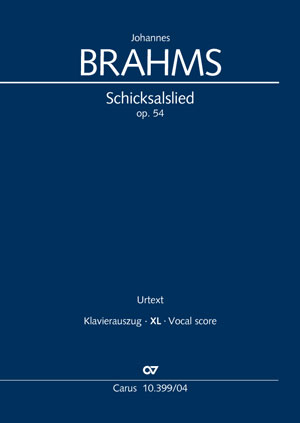 CARUSPLUS
New Vocal scores XL
With Vocal scores XL we are offering important choral works in reader-friendly large print. Choral singers can now enjoy the clear-to-read music text and high-quality presentation of Carus vocal scores in larger print.
New issues this month in the Vocal scores XL series include Brahm's Schicksalslied, Mozarts Vesperae solennes de Confessore and J. Haydn's Missa brevis Sancti Joannis de Deo.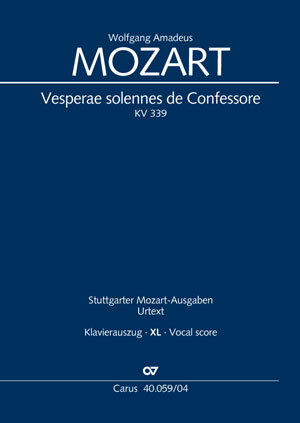 As well as this, for all editions full scores, vocal scores, chorus scores, and complete performance material is naturally available.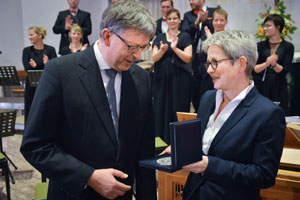 SCHÜTZ COMPLETE RECORDING
International Heinrich Schütz Prize for Rademann
Prof. Hans-Christoph Rademann has been awarded the International Heinrich Schütz Prize for his outstanding commitment to the music of Heinrich Schütz. In Rademann, Schütz has found "a creative visionary, a committed driving force and an inspired ambassador", said Dr. Christina Siegfried, the Artistic Director of the Heinrich Schütz Music Festival in her citation. The prize acknowledges "Rademann's many inspirational and moving concerts throughout the world" and in particular his unique complete recording of Schütz's works with the Dresdner Kammerchor. This will be completed with the release of the last two CDs in January and June 2019. The prize, awarded for the very first time, was presented to Rademann during the 20th Music Festival in Dresden on 14 October.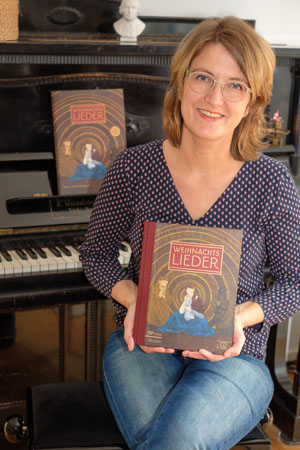 FAVORITE WORK
LIEDERPROJEKT: Christmas Carols
Musically, Miriam Wolf already feels very well prepared for Christmas this year. When Advent approaches she always turns to the Christmas carols from the LIEDERPROJEKT. This volume is indisputably her favorite in the LIEDERPROJEKT series with its many wonderful song books.