Newsletter October 2015
Dear Readers,
Autumn has arrived, nature is glowing in a warm light. Following on from the recent launch of our new website, we are also presenting our newsletter in a colorful new format. Our new publications in choral music, music with CDs, our choir app carus music, and the LIEDERPROJEKT give you a taste of what's on offer for Advent and Christmas time.
Have fun reading and discovering!
With best wishes, Carus-Verlag

NEW DESIGN
New website
Ten years on, and we have completely redesigned our website. Our online presence now has a fresh layout and offers a range of important innovations – including an optimized display for smartphones and tablets and an improved search function for our entire publishing catalog. We have brought together the most important points >> HERE .
CHORAL COLLECTION NOW AVAILABLE
Christmas Carols of the World
Christmas is celebrated throughout the world, and everywhere the singing of Christmas carols is part of the festivities. Every country has its own carols. This new choral collection enriches the Christmas repertoire for choirs with a selection of 85 international Christmas carols. It contains arrangements by composers from 23 countries in their original languages, including John Rutter, John Høybye, Wolfram Buchenberg, and Fredo Jung.
>> Order now at the special introductory prize
CHORAL MUSIC
Christmas music by Schütz and Rolle
Johann Heinrich Rolle's Christmas cantata Siehe, Finsternis bedeckt das Erdreich is full of surprises with its original harmonies and contrasting tempi. Schütz's sacred concerto Ein Kind ist uns geboren is well worth discovering.

And incidentally, for many new publications, including the two Sanctus settings by Bach's pupil Altnickol, matching recordings are available at Carus.
CARUS MUSIC
New releases in our choir app carus music
For the autumn and winter months we have produced some new releases of important repertoire works! In the last few days we have added the Requiem settings by Fauré and Brahms, as well as Haydn's Schöpfung (The Creation). Try out a movement from each of these works free!
>> All new releases in carus music
>> More information on carus music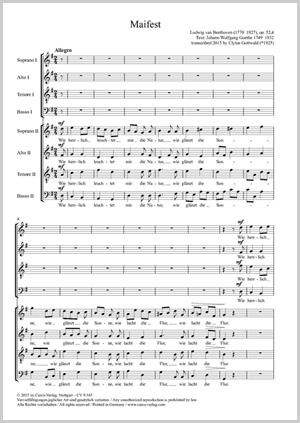 CONTEMPORARY CHORAL MUSIC
Beethoven / Gottwald: Three songs after texts by Goethe
In November 2015 the choral director, composer, and musicologist Clytus Gottwald celebrates his 90th birthday. Shortly before the great day we are publishing a new edition which was successfully premiered just a few days ago: Beethoven's Three songs after texts by Goethe in a vocal transcription by Gottwald. Another new publication is Till Löffler's Tanz der Toten, a melodrama for mixed chorus, narrator and piano, composed in 2013 to a commission from Tritonus Chamber Choir and successfully premiered under the baton of Klaus Brecht.
>> All new contemporary choral music publications
NEW CD RELEASES
New CDs based on Carus editions
In spring we published the music editions of Distler's Christmas story and Respighi's Lauda per la Natività del Signore. Now the matching recordings have been released. Have a listen!
A high point of the Schütz complete recording is the Symphoniae Sacrae III. The Dresdner Kammerchor and Dresdner Barockorchester perform, conducted by Hans-Christoph Rademann.
>> CDs and music editions

OUR FAVORITE WORKS
Fauré: Requiem
Our editor Sabine Bock first encountered Fauré's Requiem as a teenager at a gig with her then youth symphony orchestra. The dark, warm tonal colors of the piece still work their magic on her cellist's heart today.
>> My favorite work
CARUS ON THE ROAD
Music China
14.-17.10.2015. Emanuel Scobel, Head of International Sales at Carus, looks forward to meeting you there at booth no. W1 C39!
Frankfurt Book Fair
14.-18.10.2015. Our sales team is looking forward to welcome you at booth A18 in Hall 3.0!