Newsletter October 2017
Dear readers,

The new Loreley Choral Collection for mixed choir with just one male voice part is here, and is available at a special introductory price! This choral collection is part of the latest LIEDERPROJEKT installment Die schönsten Lieder (The most beautiful songs). As well as the choral collection, there is a large-format song book with singalong CD. There is also a voice and piano volume for the song book containing accompaniments to all the songs, and two CD collections.


With best wishes, Carus-Verlag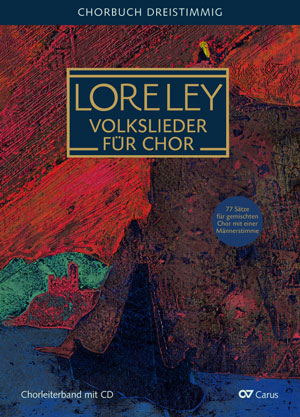 NEW
Loreley. Folk songs for choir
77 German folk songs, 40 of these newly composed
in three or four parts, all with just one male voice part
a cappella movements or with ingenious piano accompaniments
styles range from baroque to pop and jazz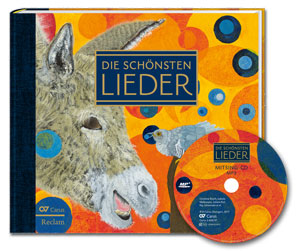 NEW
The most beautiful songs. Song book with Singalong-CD
Large-format illustrated song book (30,5 x 26,5 cm)
166 songs
includes instrumental CD (mp3) to sing along to
illustrated by Frank Walka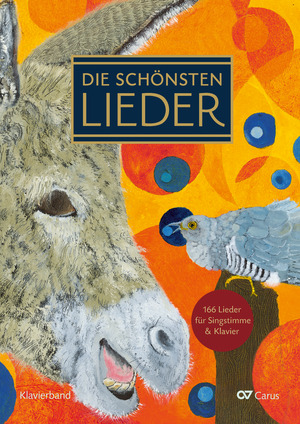 FROM MID-OCTOBER 2017
Piano volume
166 songs from all periods in settings for voice and piano
melodious arrangements are easy to medium level of difficulty
all the verses of the text are included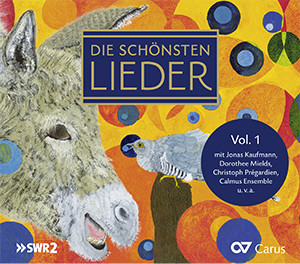 NEW
CDs
83.032 , Vol. 1, 19.90 €
83.033 , Vol. 2, 19.90 € (only available in Germany, Austria and Switzerland)
selected highlights from the LIEDERPROJEKT together with stunning new productions
songs from the Renaissance, traditional folk and children's songs, art and orchestral songs, pop songs
top singers such as Anna Lucia Richter, Jonas Kaufmann, and Dorothee Mields plus selected choirs and vocal ensembles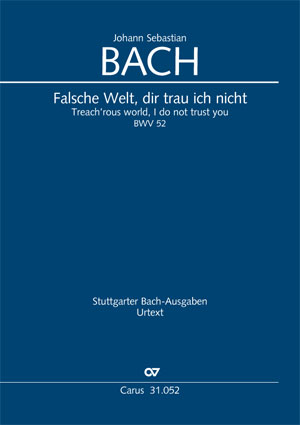 BACH VOCAL
New cantata
The cantata Falsche Welt, dir trau ich nicht (Treach'rous world, I do not trust you) is newly released this month. In this year's anniversary of the Reformation we will be presenting the complete edition of Bach's sacred vocal works with the Bach vocal project.

Pre-order the Complete Edition now at the introductory price of 629 Euros instead of 769 Euros (publication in November).
> Pre-order now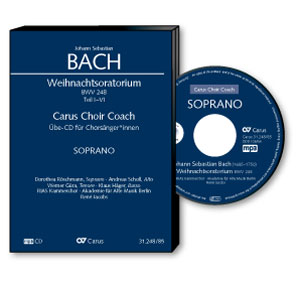 CARUS CHOIR COACH
Special offer
Carus Choir Coach offers choral singers the unique opportunity of practicing their voice part individually as part of the overall sound of choir and instruments with the help of a CD. For concert preparation (for Christmas), we are offering our customers the following works at a special price until 30 November:

Johann Sebastian Bach
Christmas Oratorio
each voice part (3-4 CDs) 12.00 € (instead of 20.00 €)

Georg Frideric Handel
Messiah
each voice part (3 CDs) 12.00 € (instead of 20.00 €)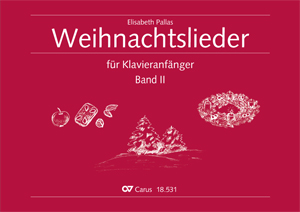 MUSIC FOR PIANO
Christmas Carols for Piano Beginners II
Corresponding to the proven method found in the first volume of Weihnachtslieder für Klavieranfänger (Christmas Carols for Piano Beginners) and Kinderlieder für Klavieranfänger (Children's Songs for Piano Beginners), the present volume offers two versions of each song: in the easiest version the song is played without accompaniment, changing between the the two hands; the more challenging yet simple version is in two parts.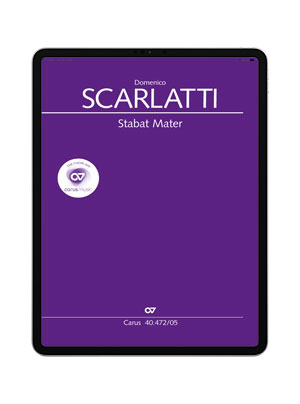 CARUS MUSIC
Scarlatti: Stabat Mater
We are constantly expanding our repertoire in carus music, the choir app. This month there is one new work: D. Scarlatti's Stabat Mater.

With carus music, the choir app, you can follow the music while listening to a top-class recording on your smartphone or tablet, and easily practice your own choral part with the help of a coach.
Special offer:
You can download Bach's St. John Passion in carus music, the choir app, between 10 October and 30 November 2017 for a special discount!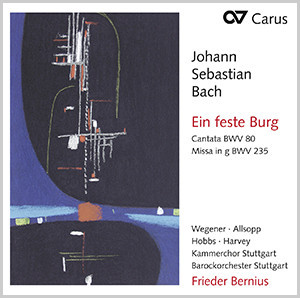 NEW CDS
J. S. Bach: Ein feste Burg
With its highly complex and artful opening chorus, the cantata Ein feste Burg is one of the highlights among Bach's cantatas. With the Kammerchor Stuttgart under Frieder Bernius and the soloists Sarah Wegener, David Allsopp, Thomas Hobbs and Peter Harvey, this masterpiece finds a more than adequate recording here.
CARUS MAGAZINE
New magazine 2/2017
Hot off the press is the new CARUS magazine 2/2017 with lots of articles about choral music. Over the next couple of weeks you will receive the magazine in the post, but you can read it right now online.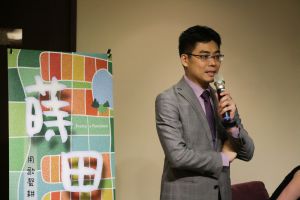 MUSIC CHINA
Visit us in Shanghai
From 11–14 October we are represented at Music China. Chunlung Lin will be on Stand W2 D21 and looks forward to meeting you!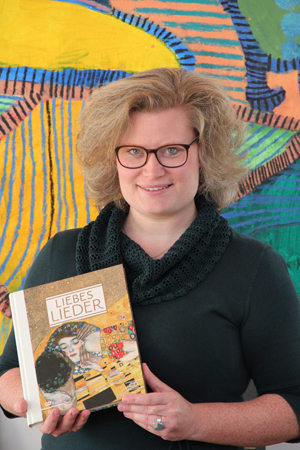 FAVORITE WORK
Love songs
As one of the few amateur musicians in her family, Marit Ketelsen is often responsible for an unmistakably unique musical contribution to a party or in church. With the Liebeslieder (Love songs) she has found a companion which is up to this challenge, one which she has already used many times...